1966 GT40 Mk I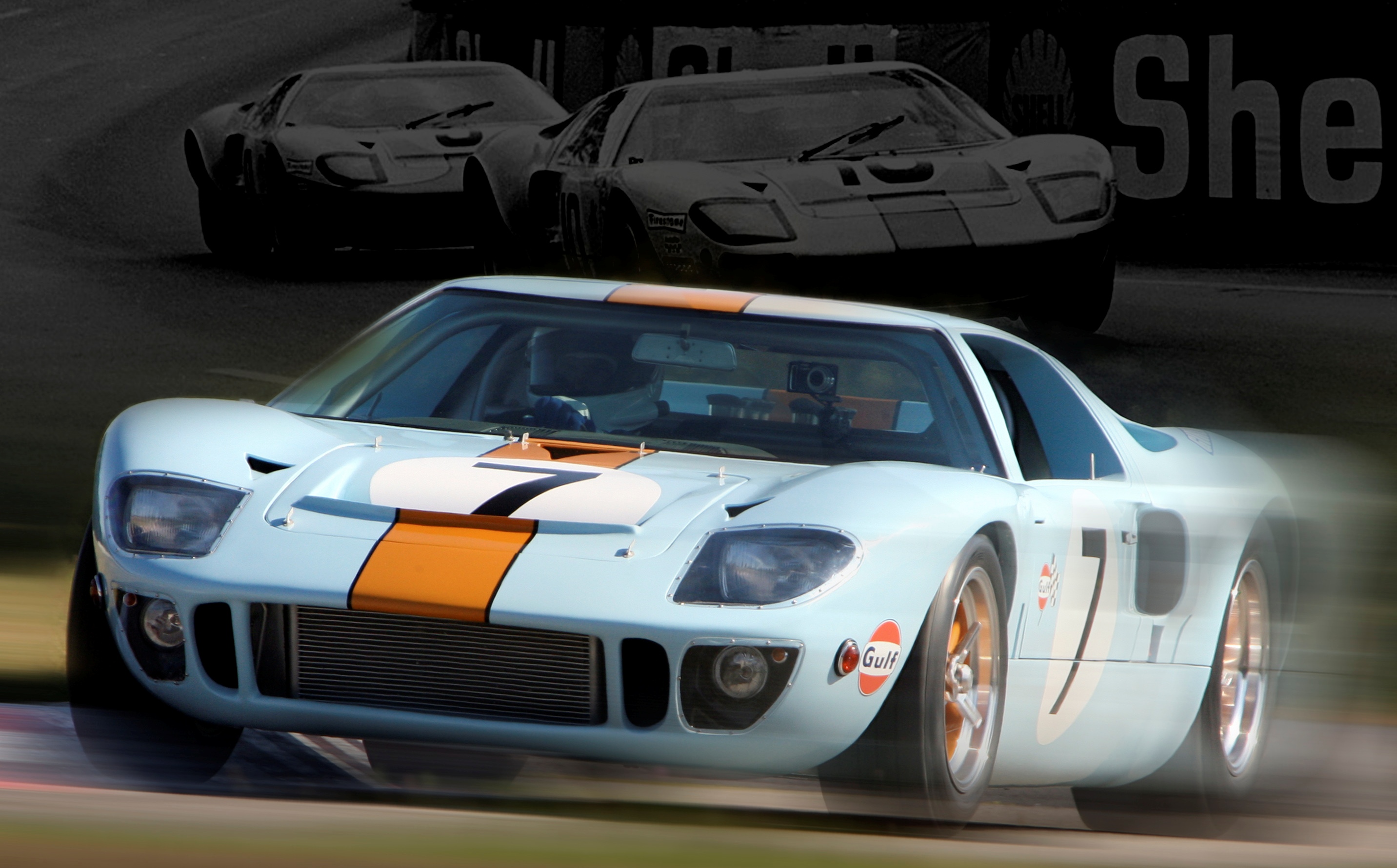 Livery paying homage to Gulf chassis 1076 at 1969 LeMans
Brand: Race Car Replicas
Chassis: Aluminum Semi Monocoque
Configuration: Right Hand Drive
Suspension components: Billet Aluminum
Drivetrain: Vintage 289, ZF transaxle & Webers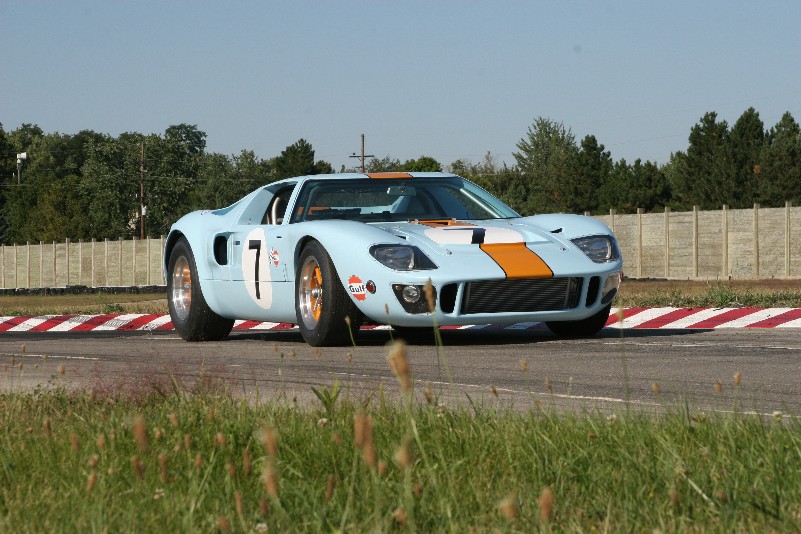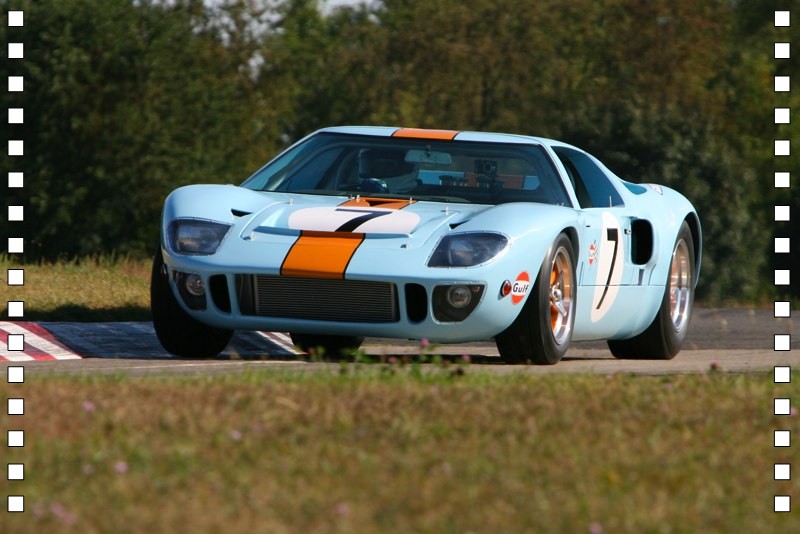 click on the above picture to see a video of that lap in photo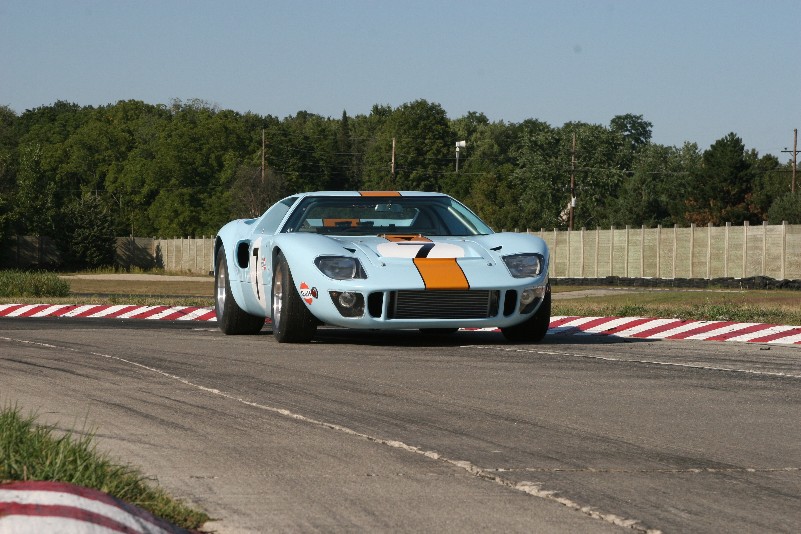 Equipment:
- Vintage 289CID engine

- Original style vintage ZF transaxle (1972) 5DS-25-2 w/ safety-wired crown gear

- Custom made slip-yoke/universal joint axle shafts

- Original style BRM wheels with true knock-off spinners

- Hoosier STTD - DOT approved racing tires (225/50/15 & 275/60/15)

- QA1 coil over shock absorbers

- Front and rear sway bars

Other Hardware:

- Vintage demister grill

- Vintage rear view mirror

- Original style "quick removal" door hinges

- Original style Hartwell body side latches

- Original style seats

- Original style steering wheel & center hub

- Original style "winged" dzus fasteners

- Original style side window hardware

- Original style fuel "flip caps" (locking inner caps & roll over vents)

- Tilton pedal box with balance bar

- Front and rear anti sway bars

- QA1 Shocks

- T6061 Aluminum uprights and control arms

- Stainless steel fasteners used extensively (non load applications)

- Grade 8 fasteners used extensively throughout build

- Air conditioning & heat

- Optima "Red Top" 910 CCA Battery

- Chassis 1076 69 LeMans livery (static cling for non-permanent application)

This was a no expense spared. A three year GT40 re-creation around a vintage drive train.

Build completed fall of 2008. Please read on...... this is an extensively documented build.

It was taken to the track twice for shake down / tuning runs.

This car is as new as a shaken down/sorted car can possibly be.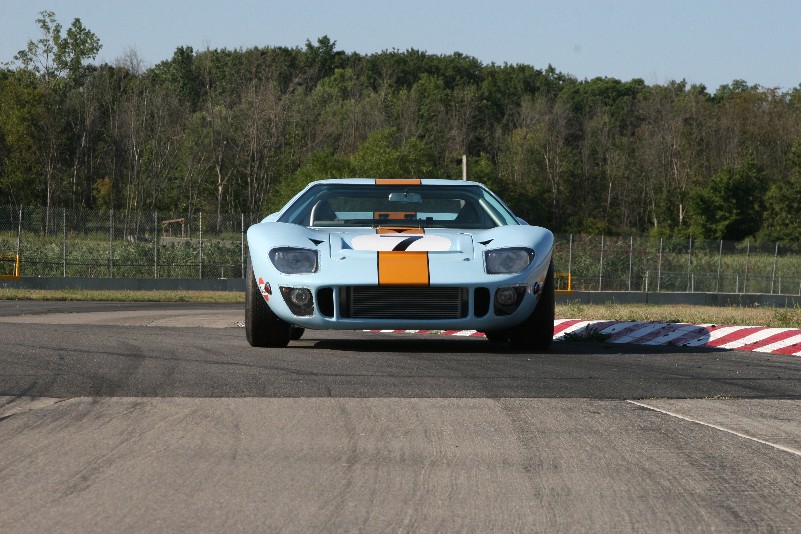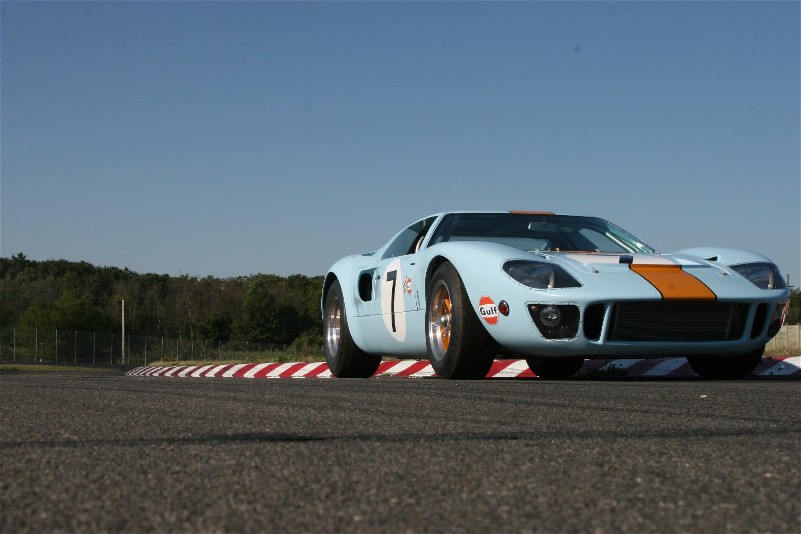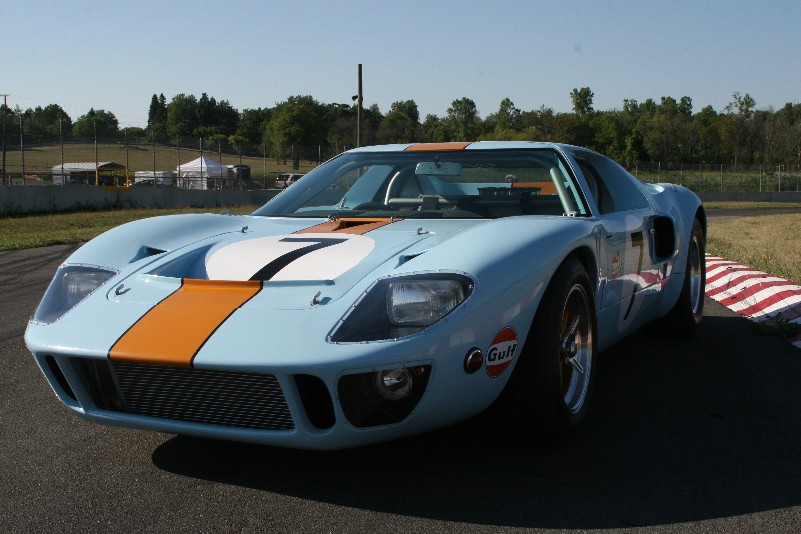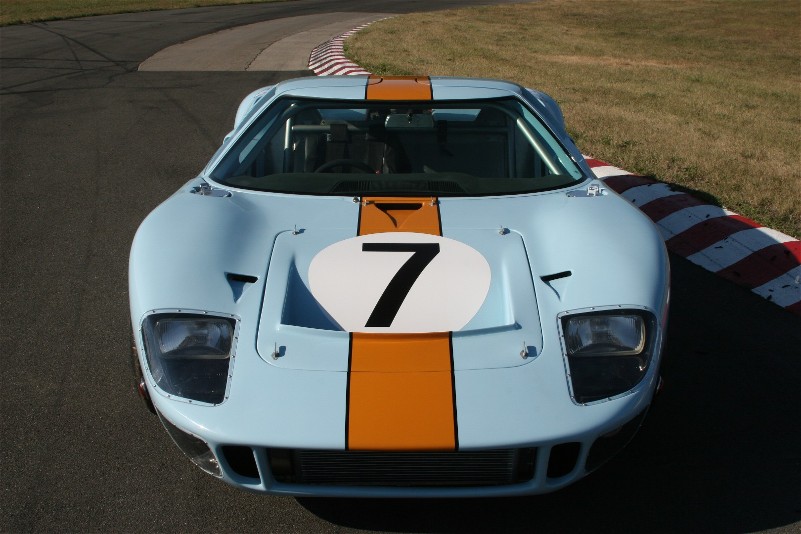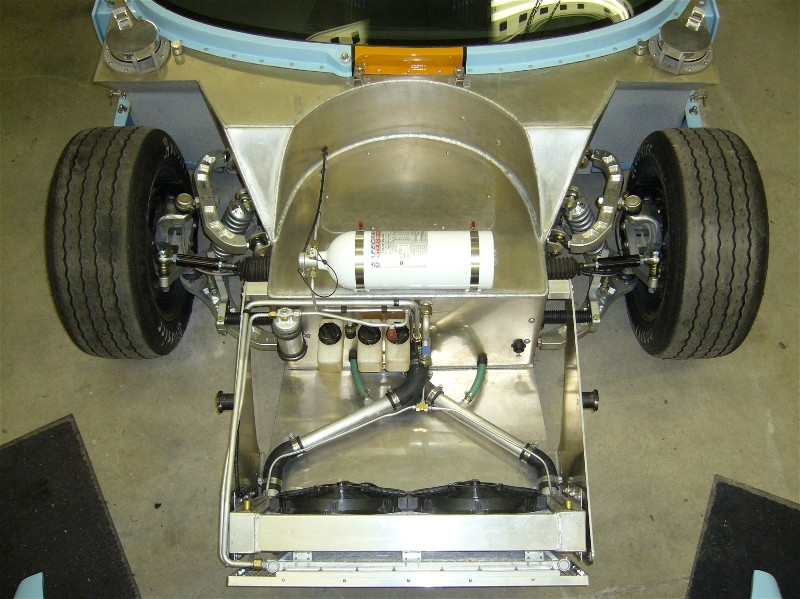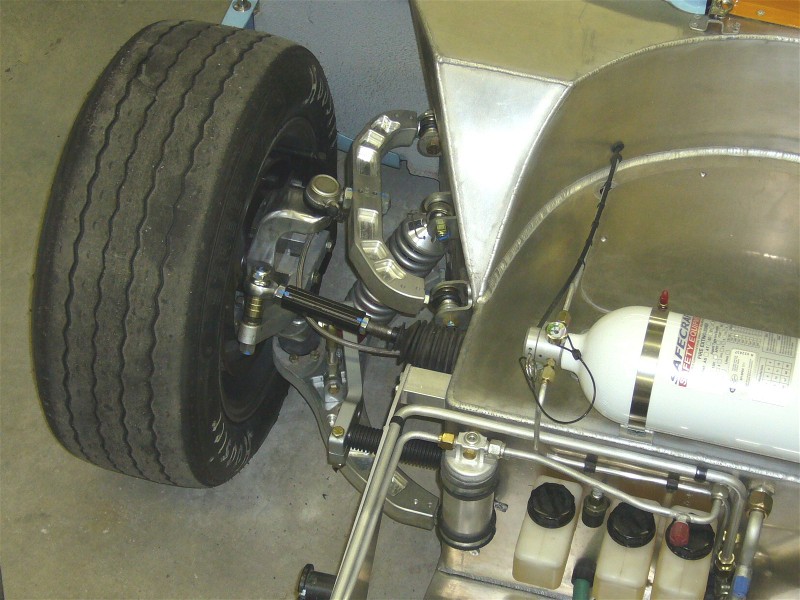 Vintage Block Info:
- Vintage 289CID, bored 0.030" (306CID")
- Engine block 1966 casting part No. C6AE-6015-C

Engine Info:
Dyno tuned to 302 HP at the wheels & 316 ft/lb torque (~375 HP at flywheel)
- Keith Black high dome pistons

- ARP hardware throughout

- Ground and peened rods

- Custom aluminum heads (flow chart below)

- Weber induction

- Canton "Road Race" gated oil pan

- Custom stainless "bundle of snakes" exhaust

- TFS Hydraulic roller cam (valve lift .530/.542 duration 221/225)

- Crane "link bar" roller lifters

- Ford Racing roller rockers

- Remote dual oil filters

- Engine oil cooler

- Custom aluminum radiator with air bleed recuirculation lines

- Original style Gurney Weslake valve covers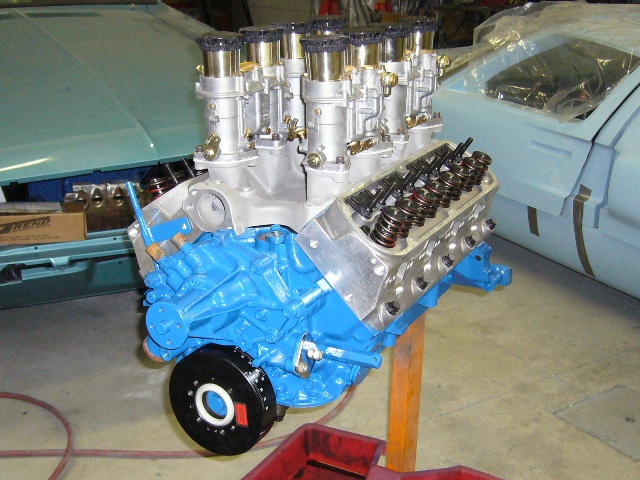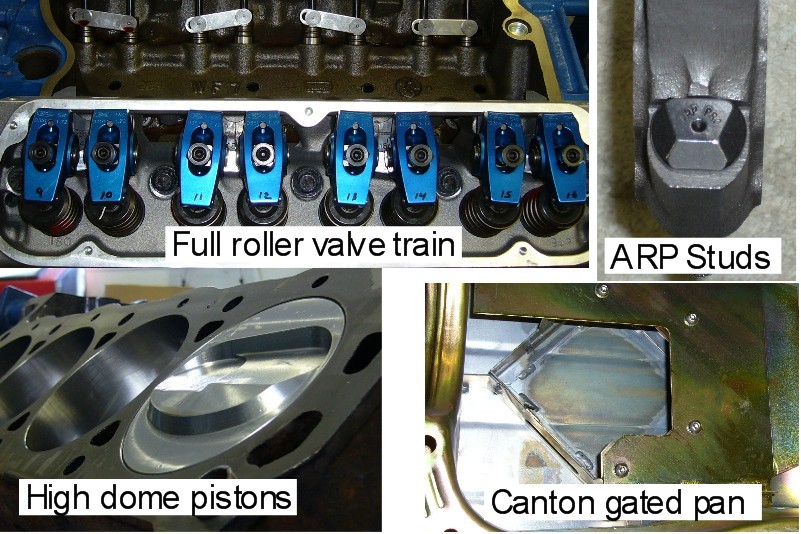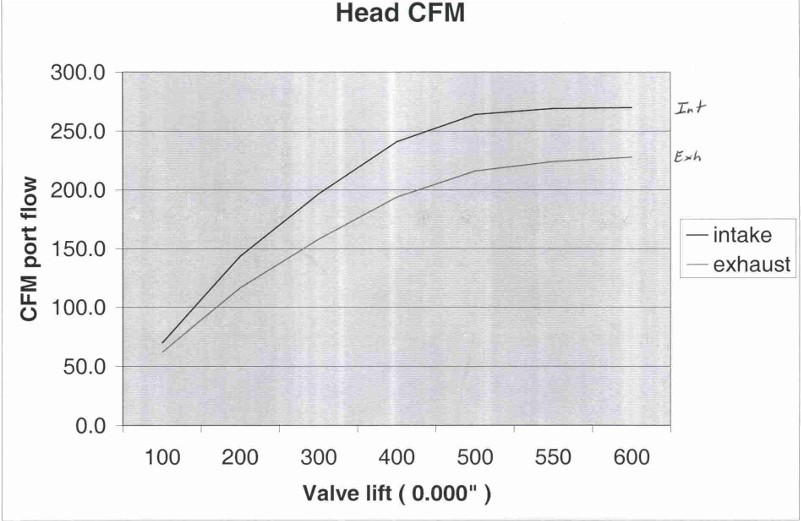 Click picture below of dyno pull to hear it scream......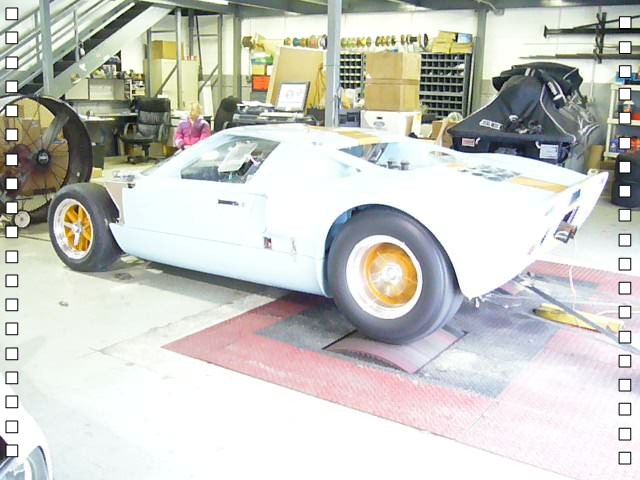 Chassis Info:
Semi-monocoque chassis cleaned, prepped and coated with truck bed liner coating for sound deadening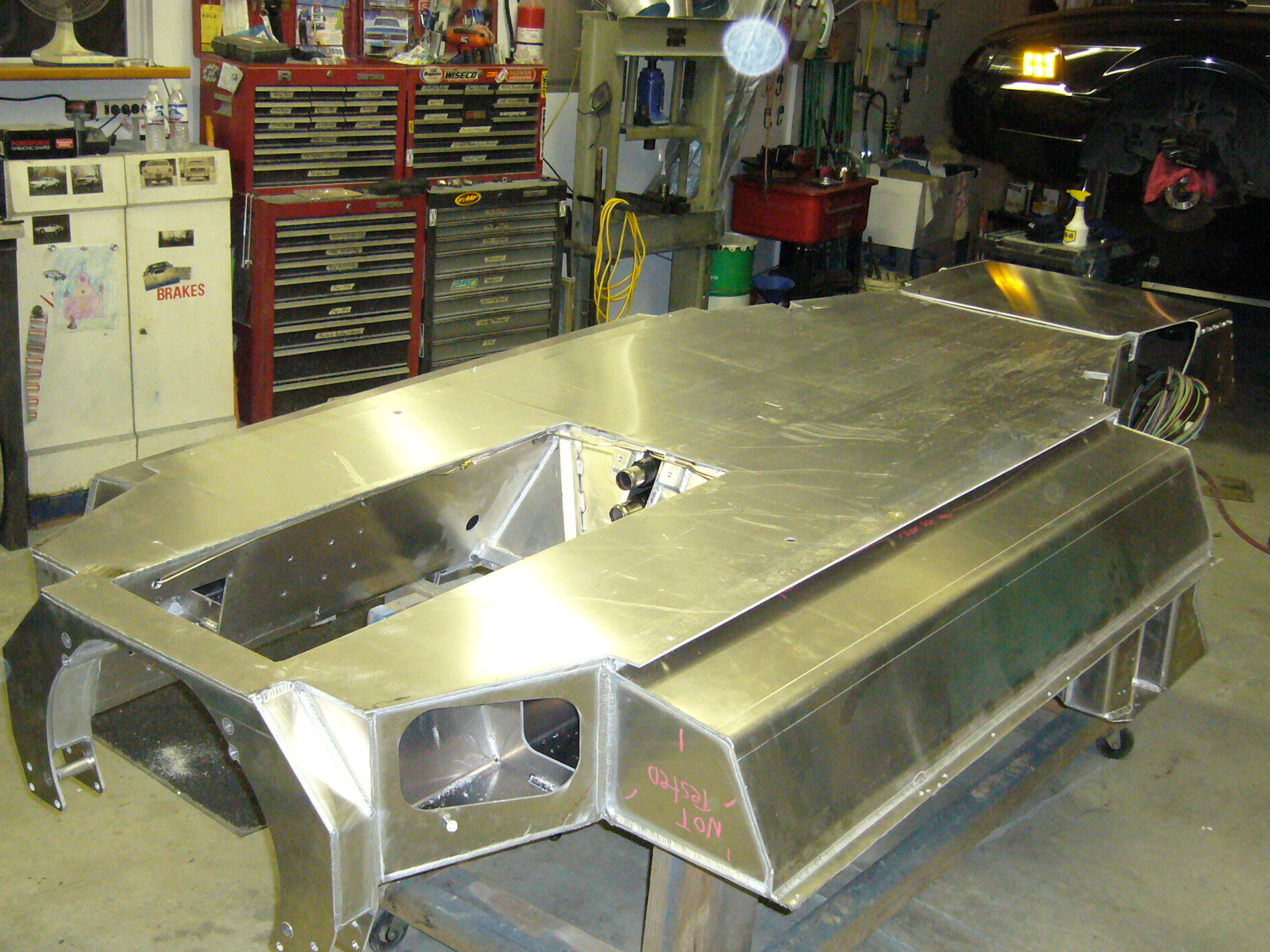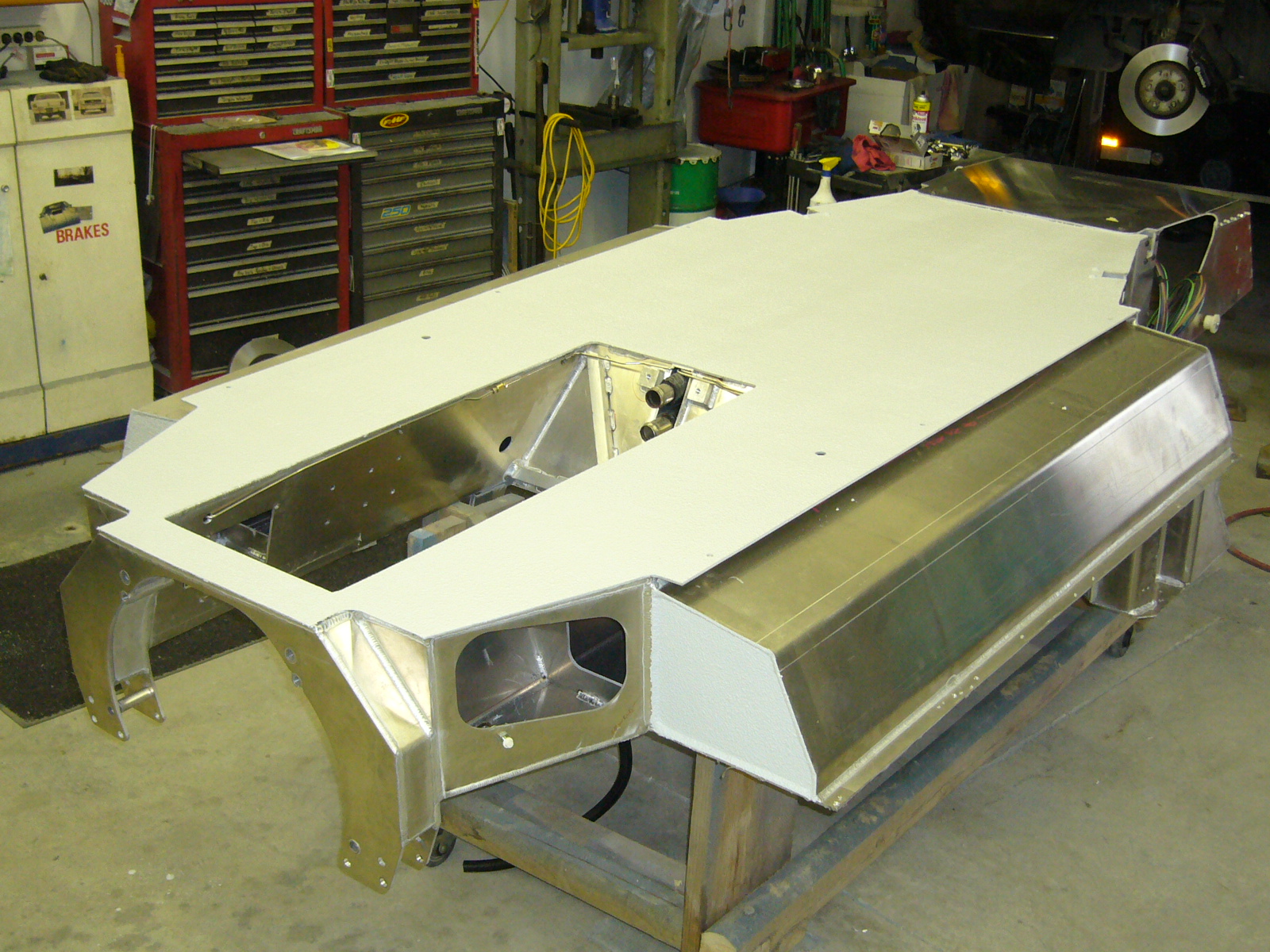 100% Aluminum semi-monocoque chassis. "V" the local shop helper, puttin in a little time for a mock drivetrain assembly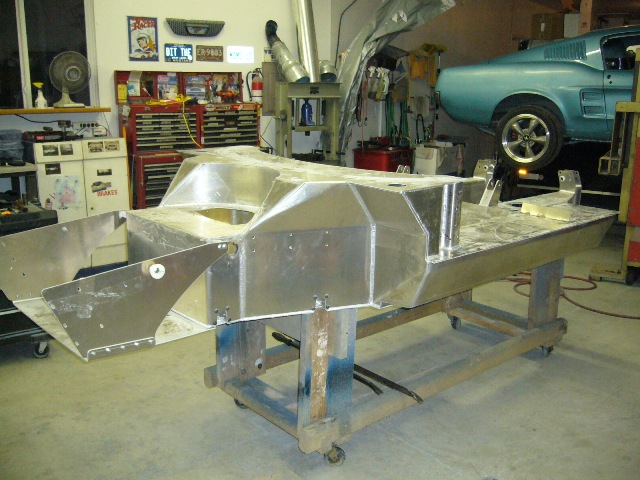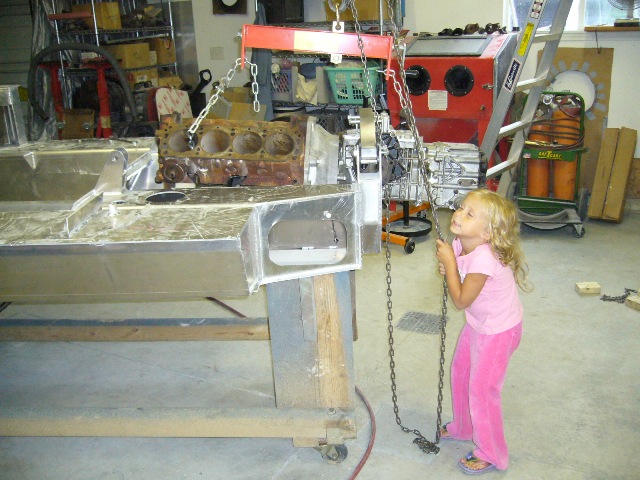 Final Drivetrain fitment
Custom made slip yoke - U joint drive shafts..nice vintage look.
Spent a bit of time hunting through the Spicer catalog to find necessary pieces.
Max rebound (dropped suspension) with such short shafts was the big challenge,
as the angle was bottoming out the range of joint articulation.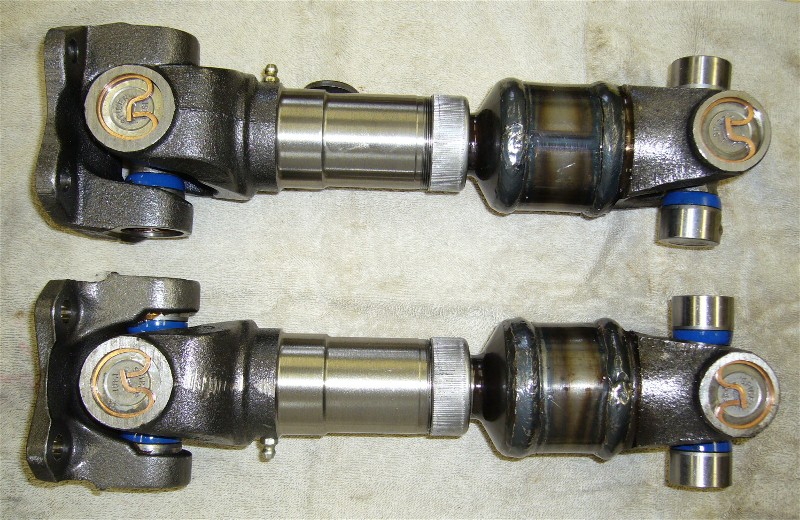 Meticulously created wiring harnesses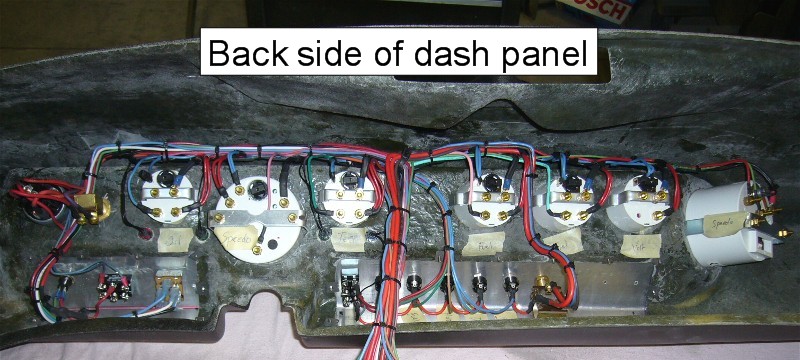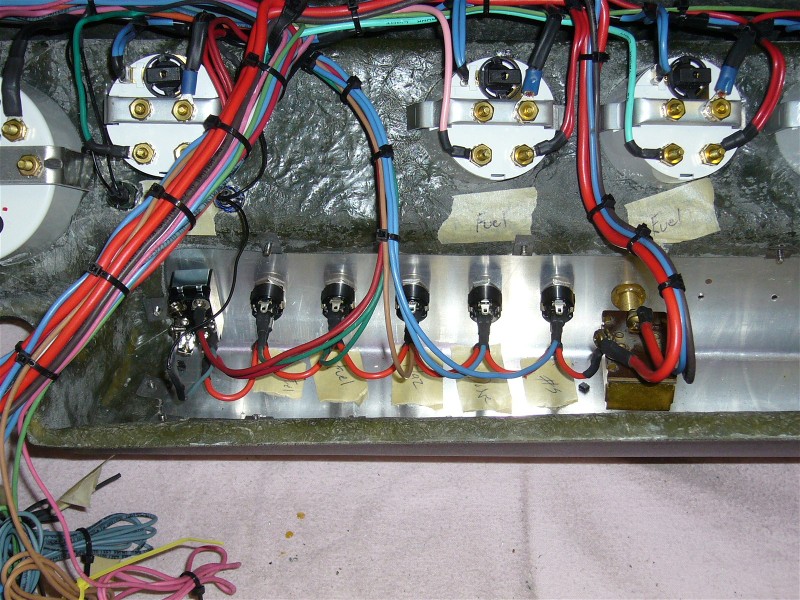 Safety Equipment:
- 6 Point roll cage

- 5 Point safety harnesses

- Wilwood 6 piston front and 4 piston rear brakes

- 2 piece NASCAR rotors with aluminum hubs

- Dual brake master cylinders

- Braided stainless steel brake hoses

- Stainless steel brake tubes

- Cabin and engine-bay fire suppression system

- Quick release steering wheel for easy ingress/egress

- Custom made telescopic/collapsible steering column
Full roll cage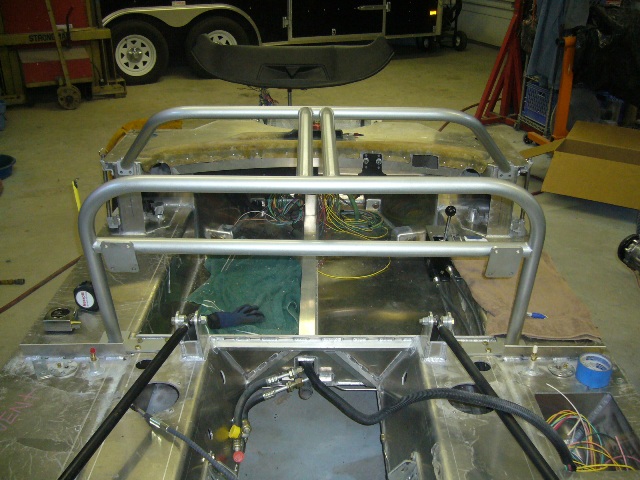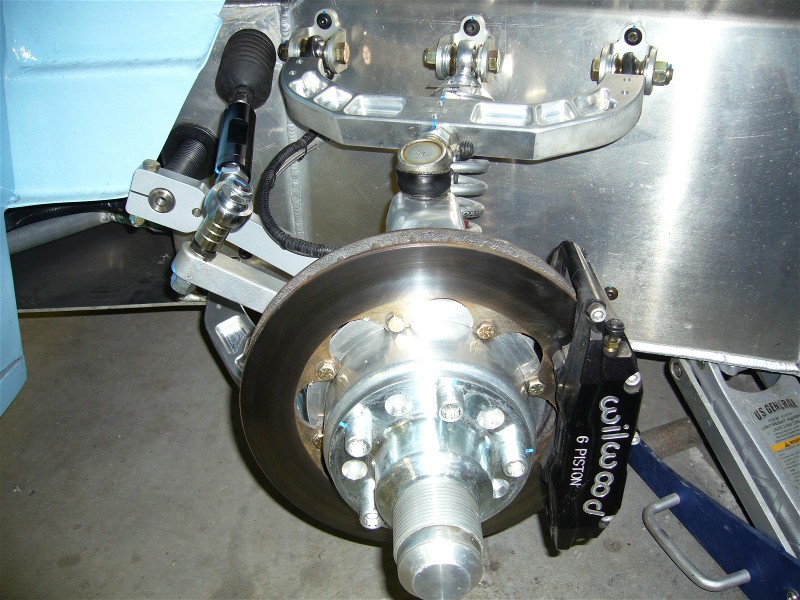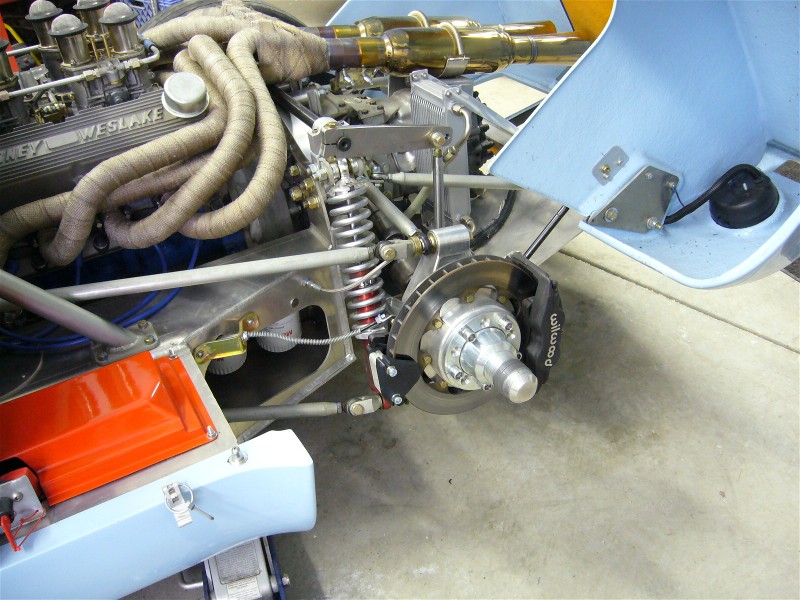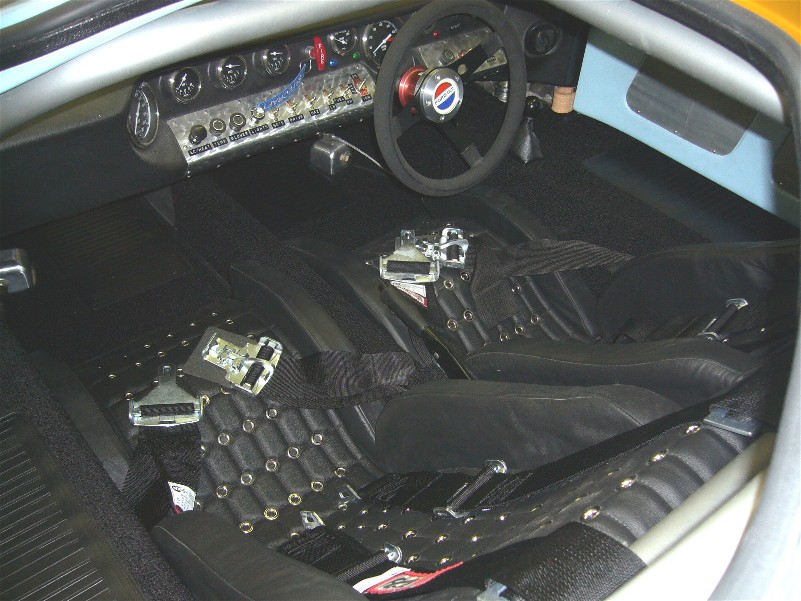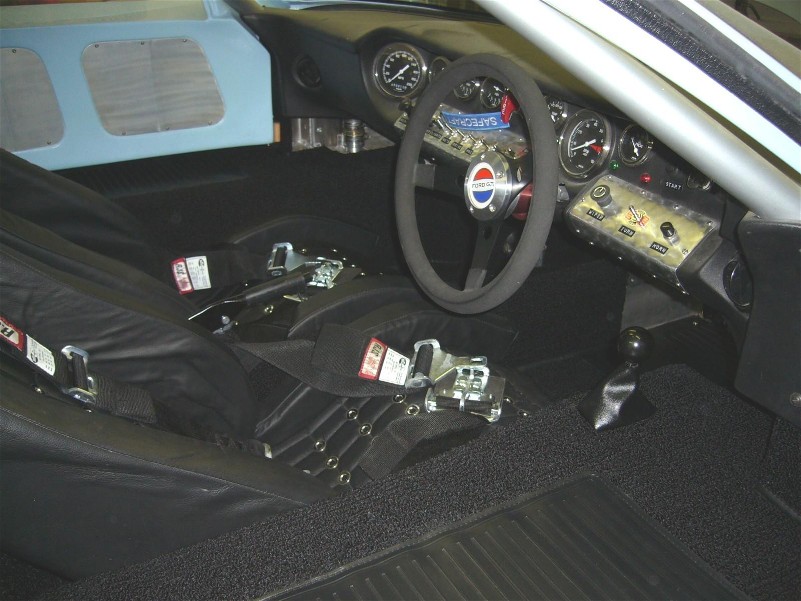 Safecraft fire supression system, with both cabin and engine bay feeds.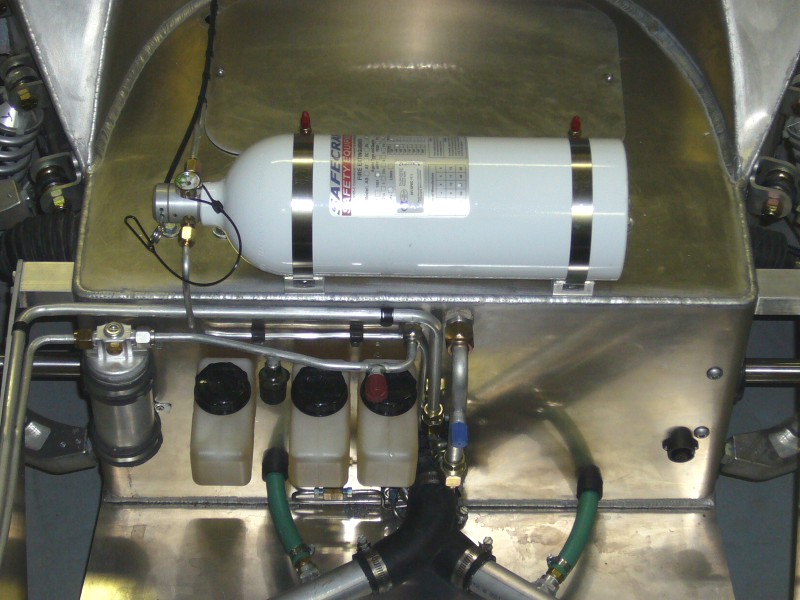 Comfort features:
Decided to fabricate an AC system... Needed to make a vent plenum for under the dash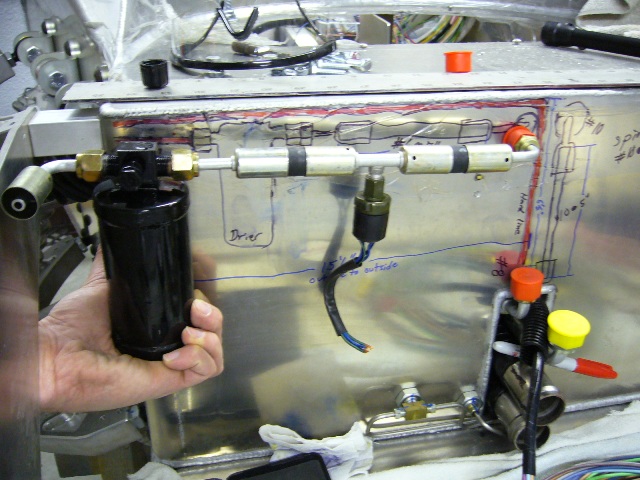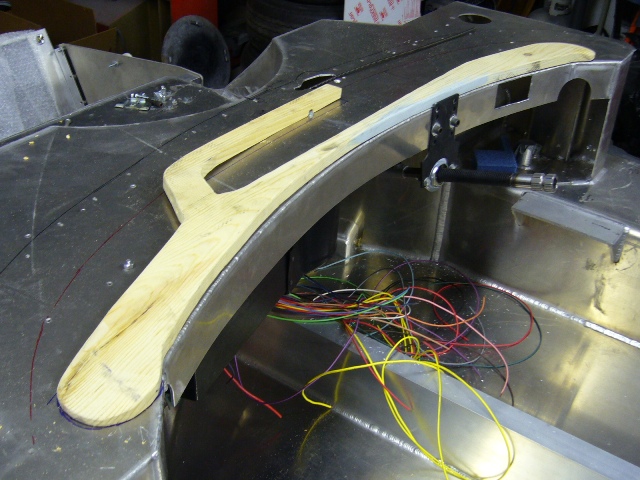 So made a wood mold, and layed mat glass to make the vent system.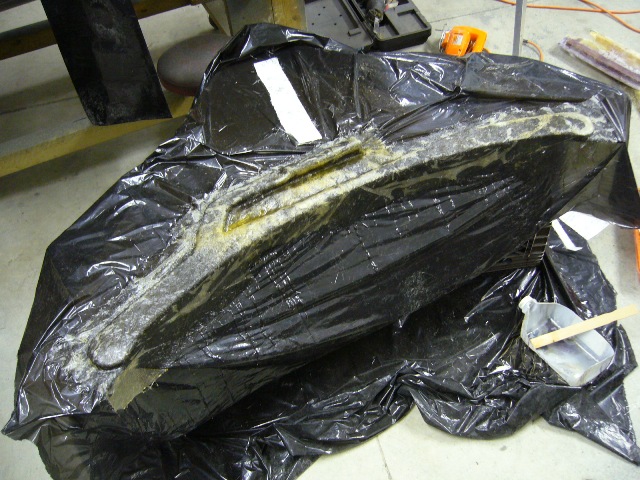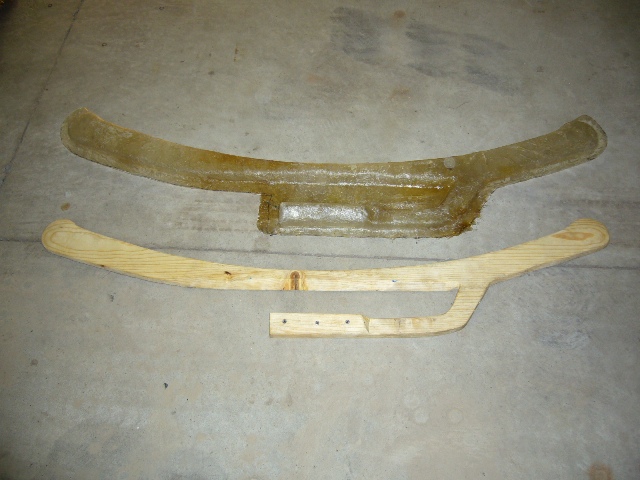 Here is the final product set in place.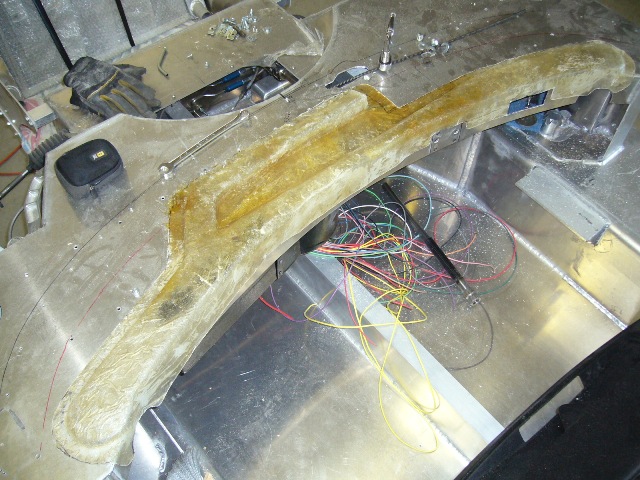 Fabricated a set of brackets to mount the compressor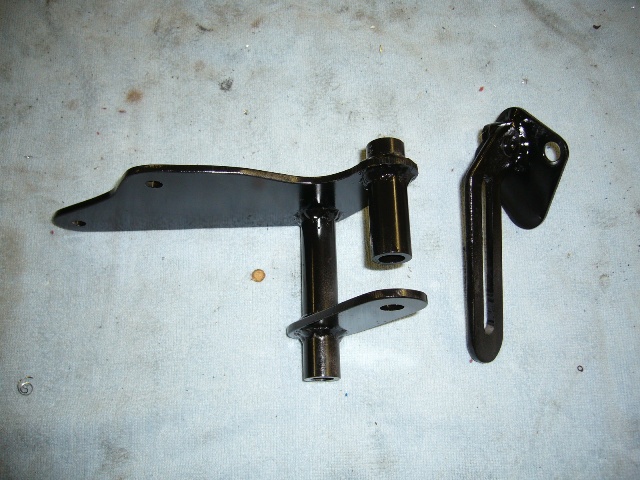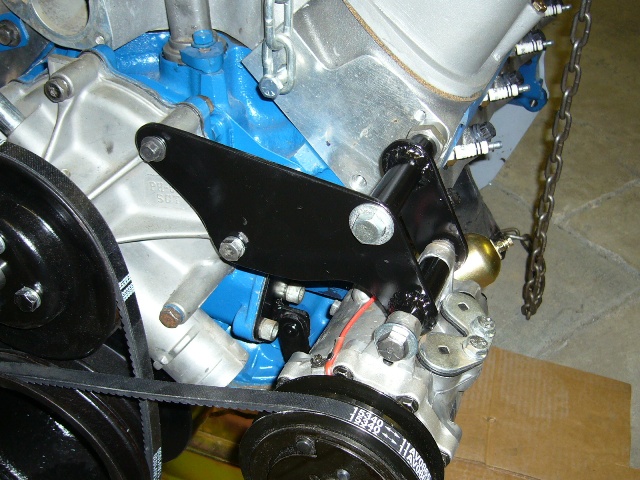 Body & Paint:
- Gulf style rear wheel flares and cut outs

- Meticulously prepared fiberglass body

- Exemplary body seem gaps and panel alignment

- DBC Base Coat / Clear Coat paint

- Body color masked for stripes, so NO paint rise at stripe

- Body panels painted body color & striped inside and out

- Hand wet sanded and rubbed
Panel prep work ongoing....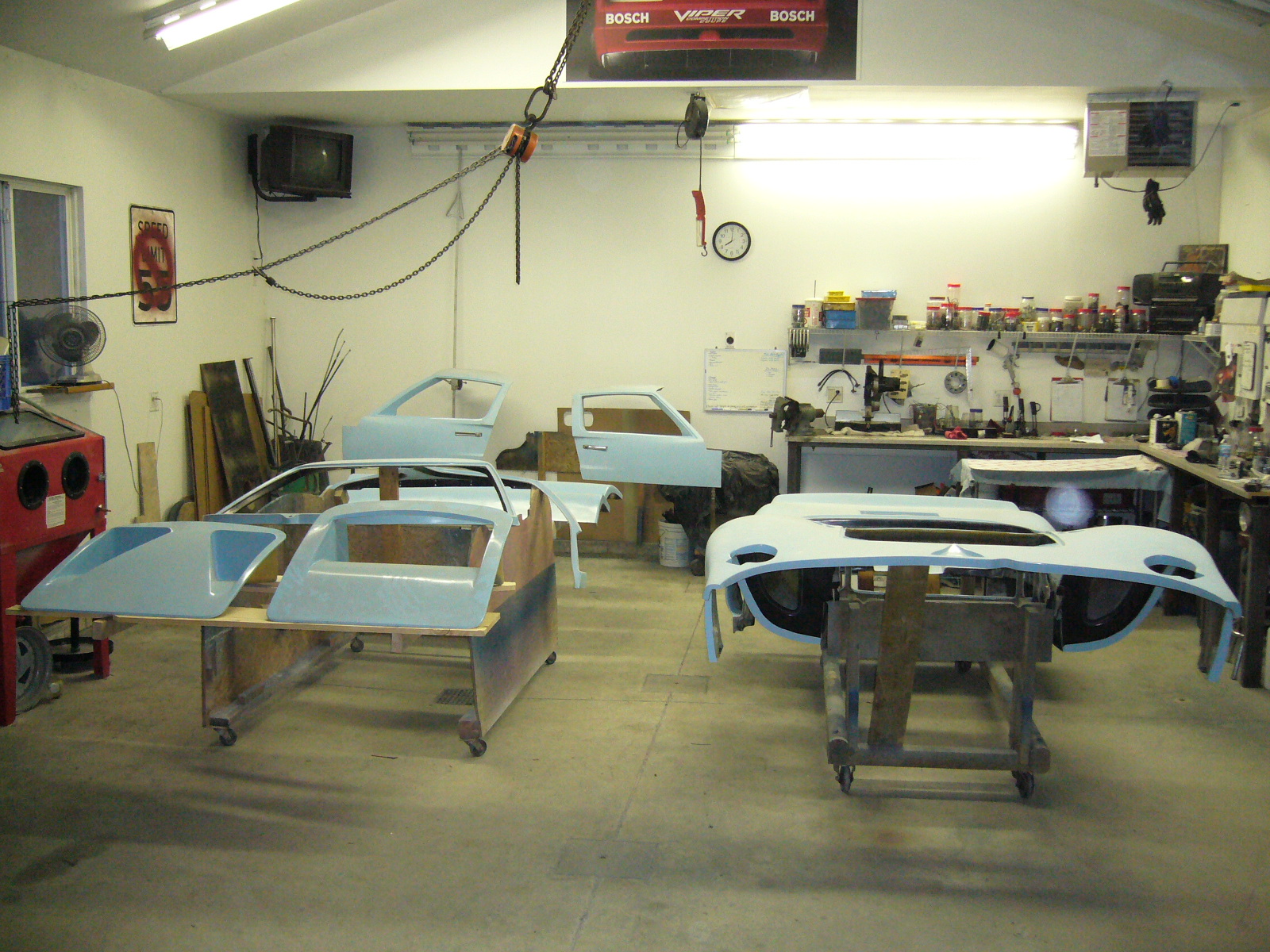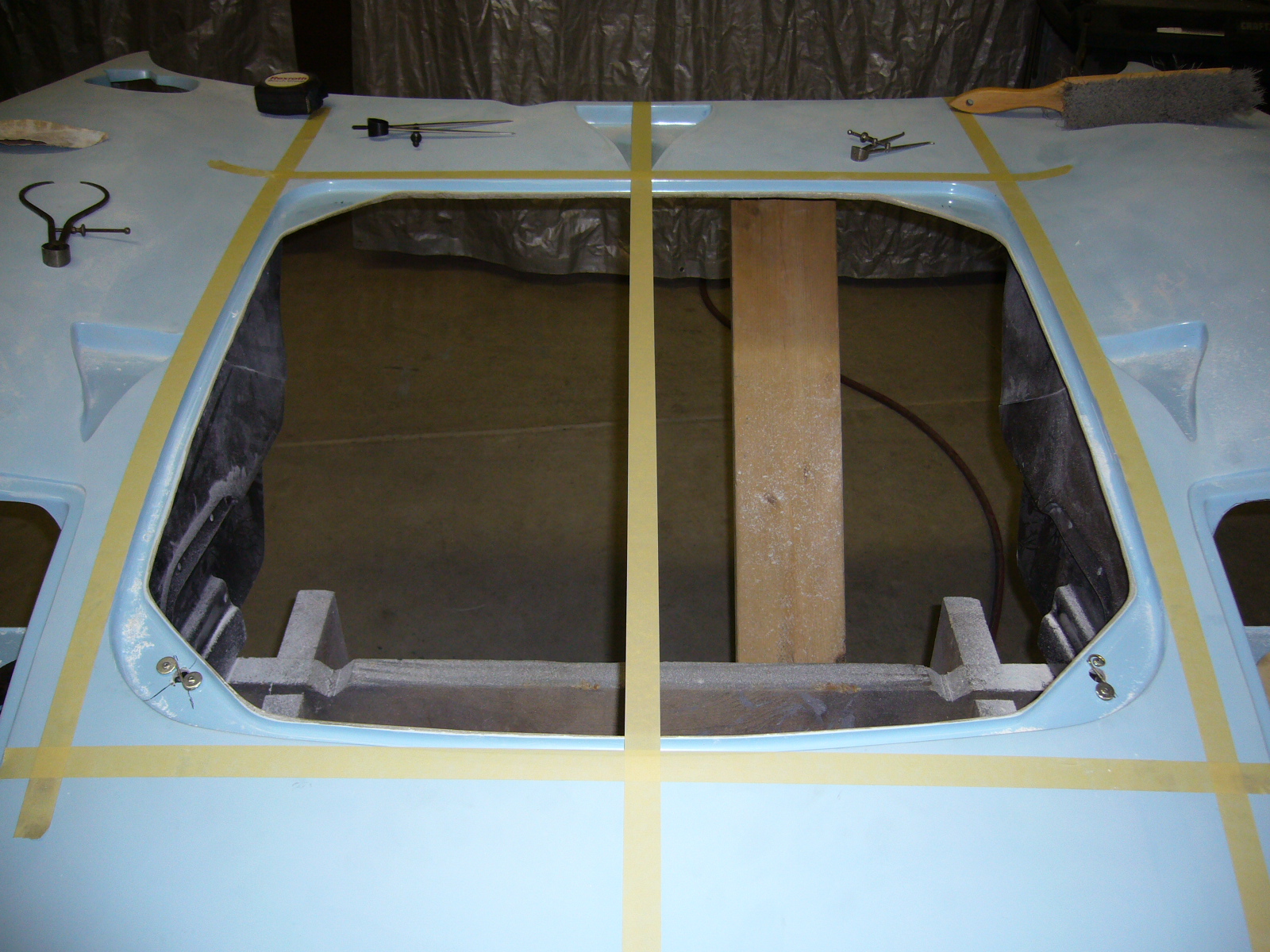 Wheel well flare prep and fitment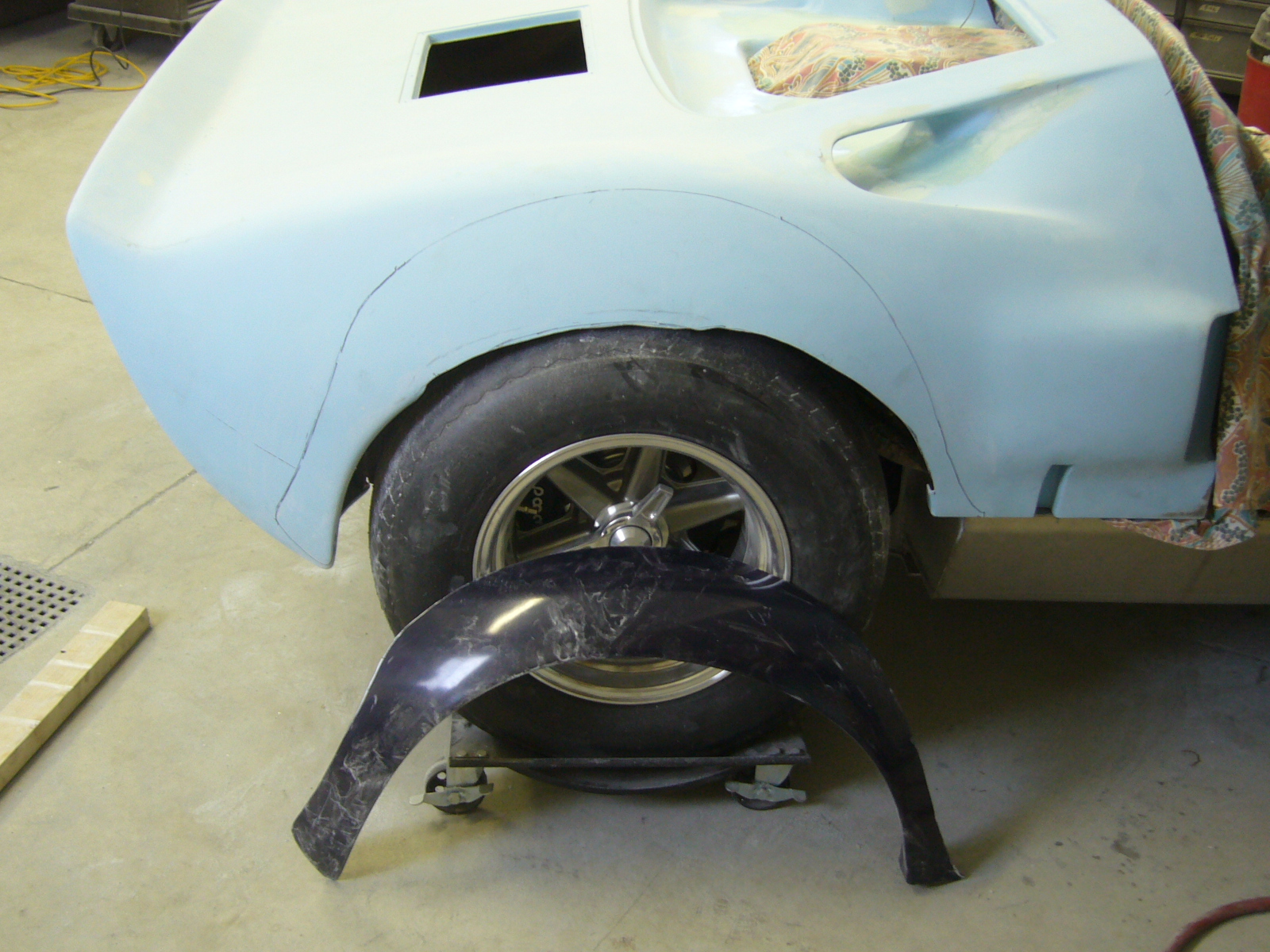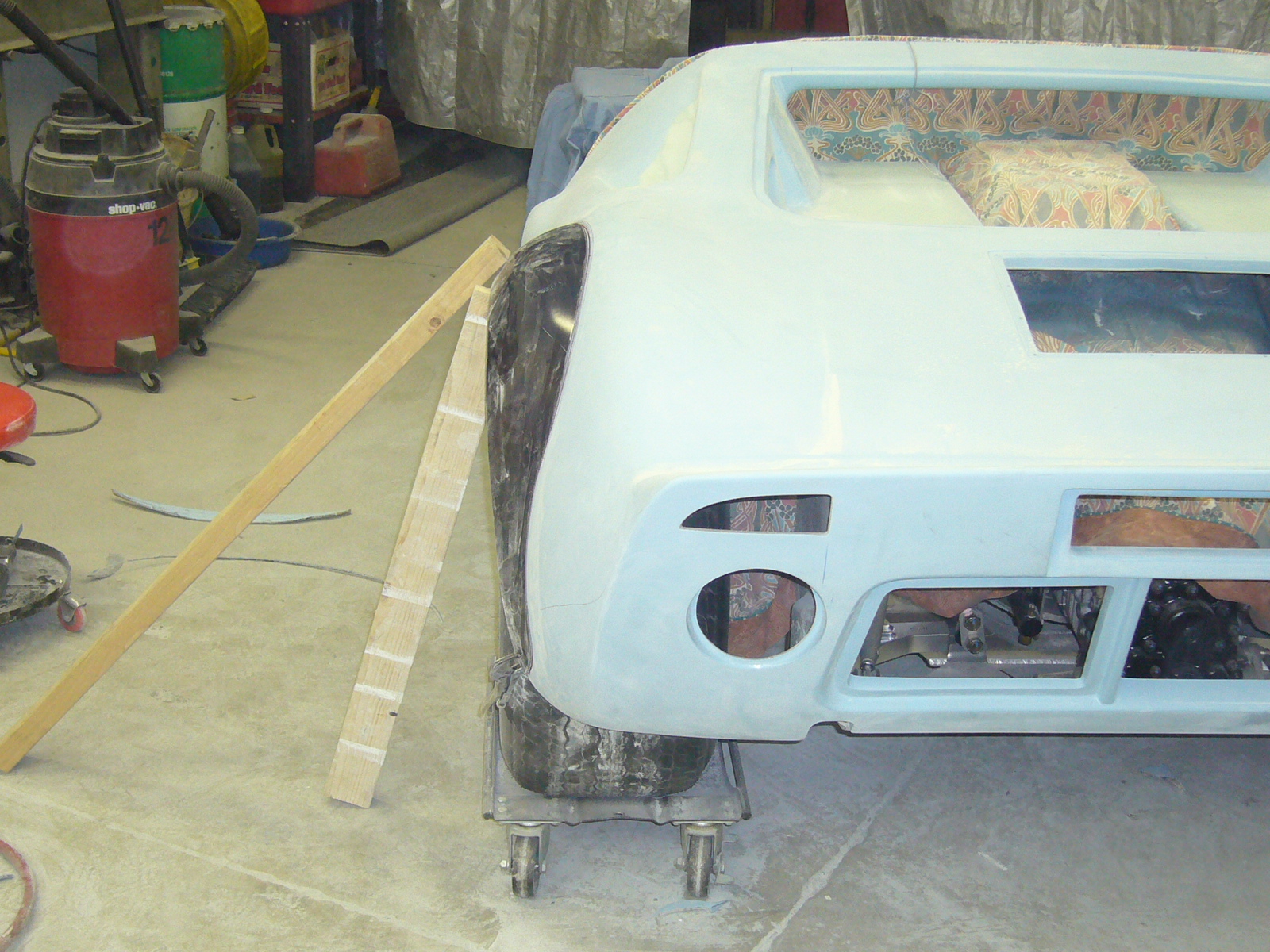 Flare shaped and fitted with initial glass bonding completed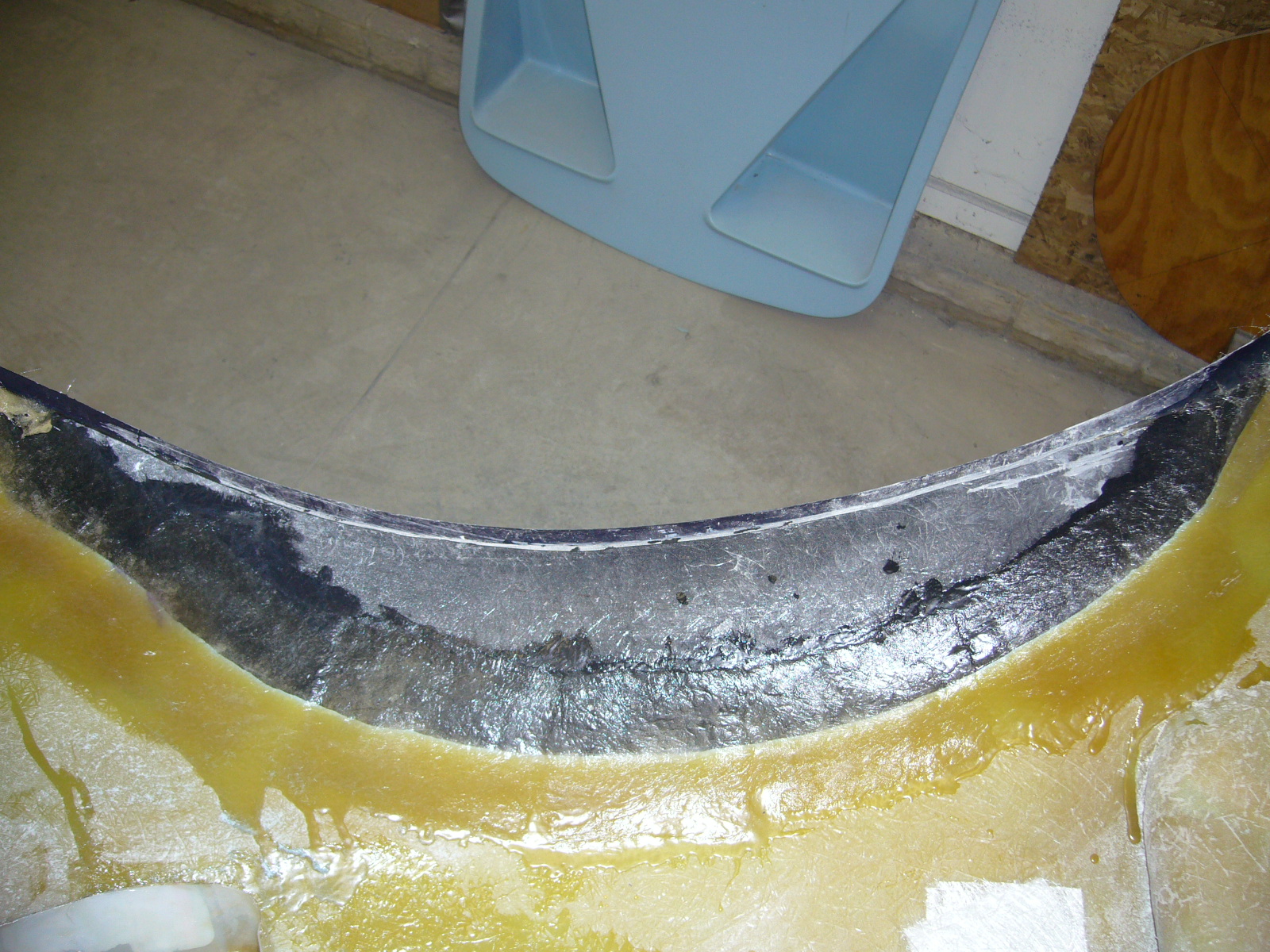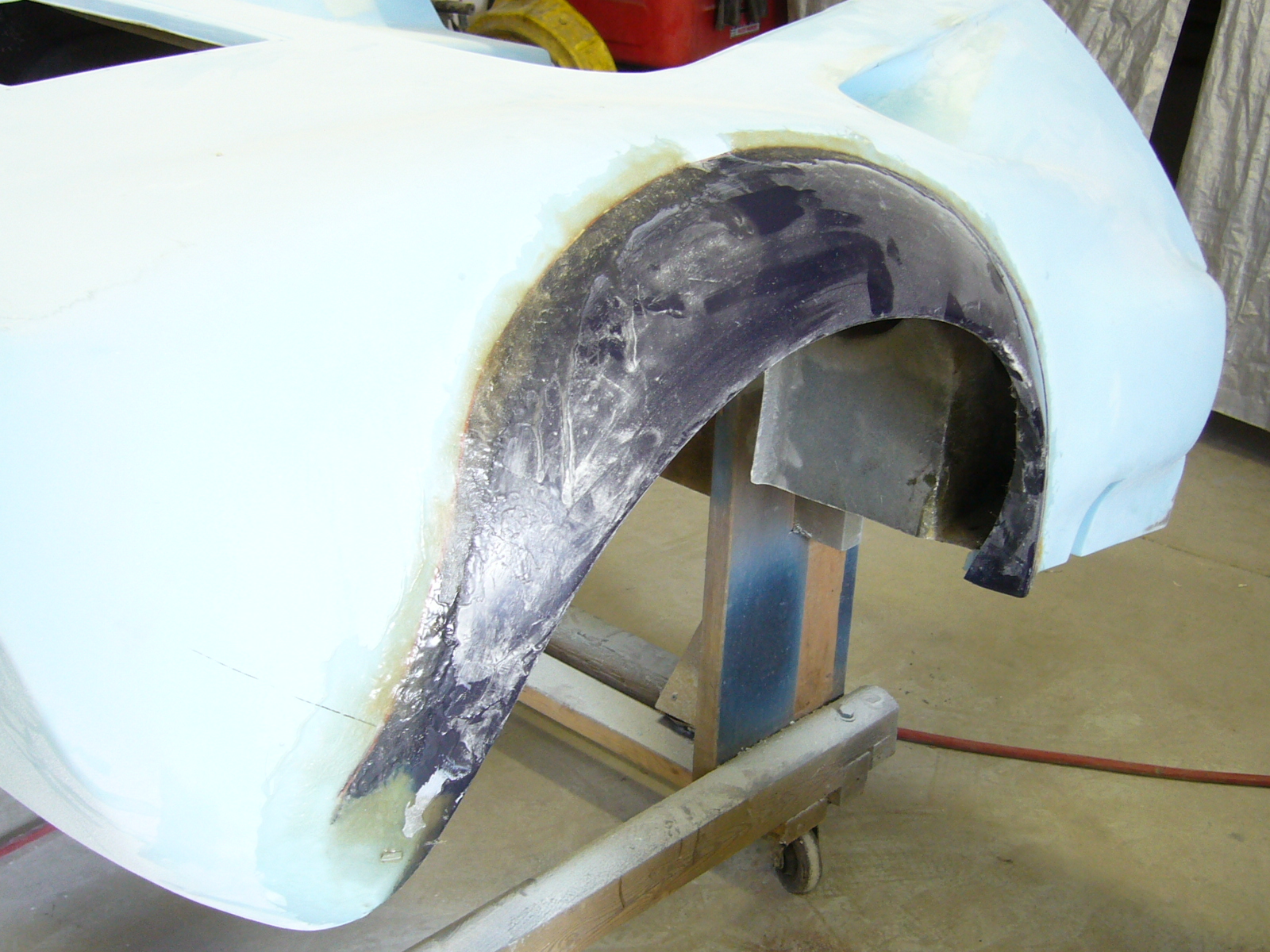 Reinforced resin layer. Final filler layer completed.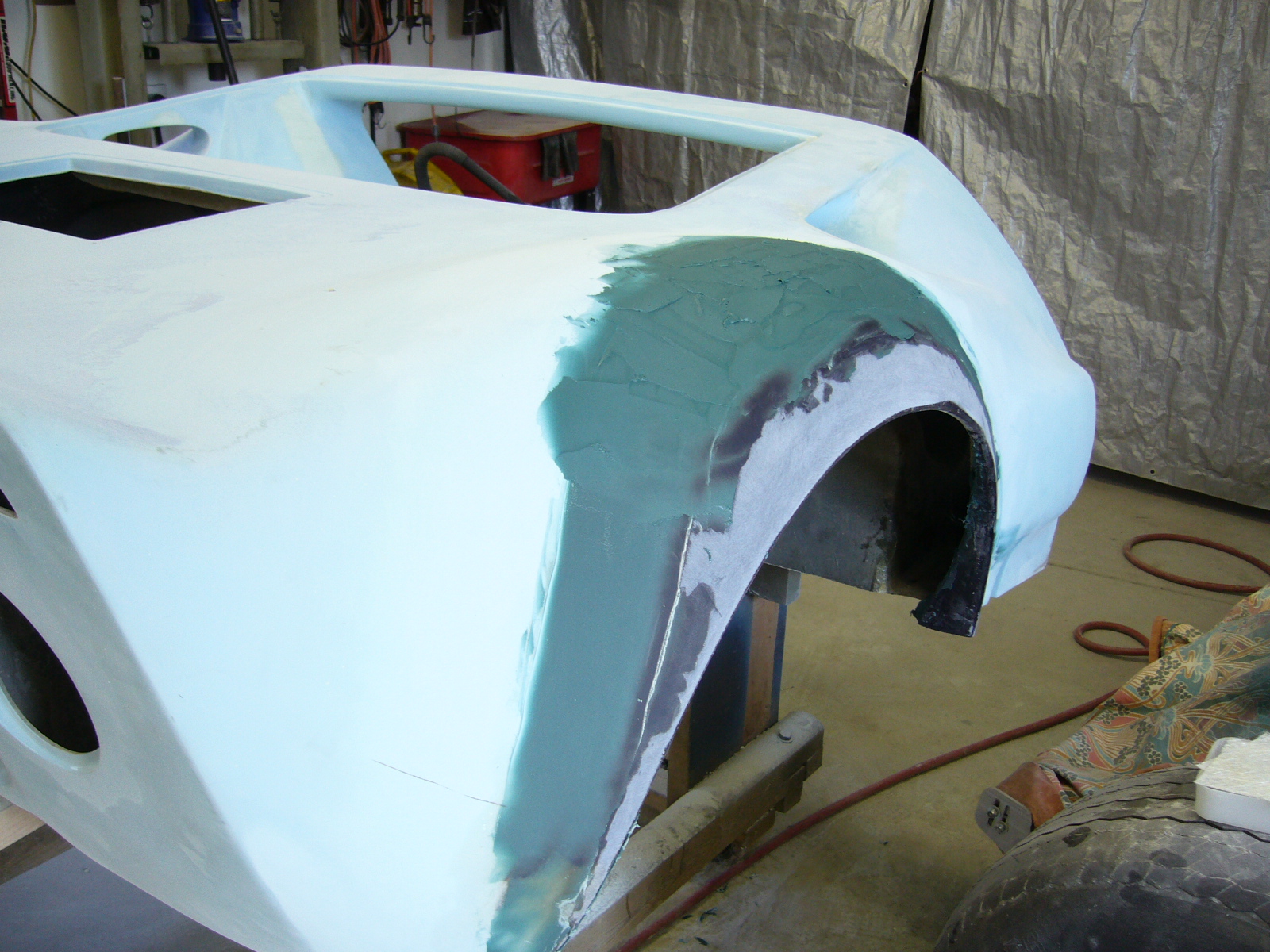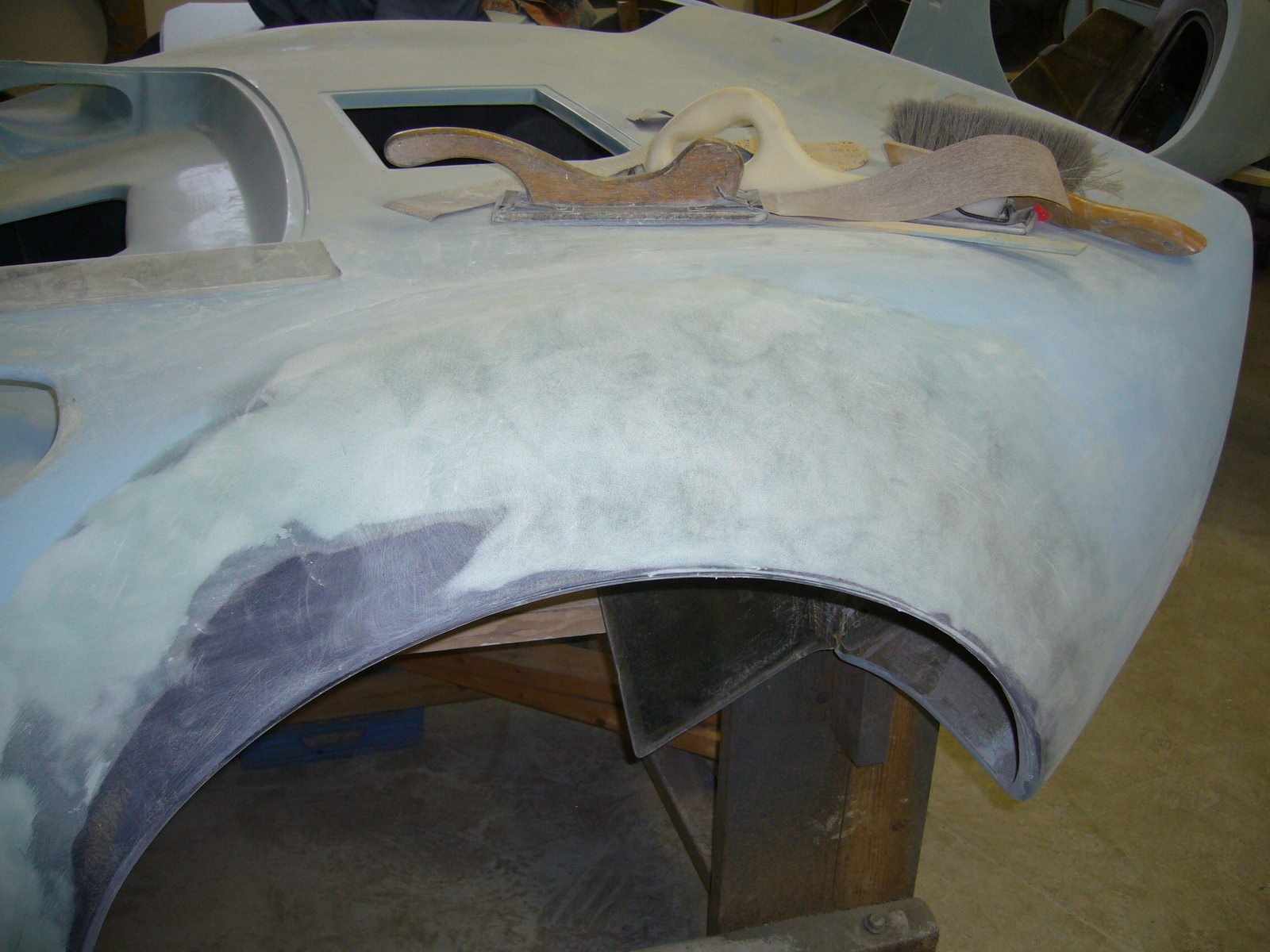 Finished product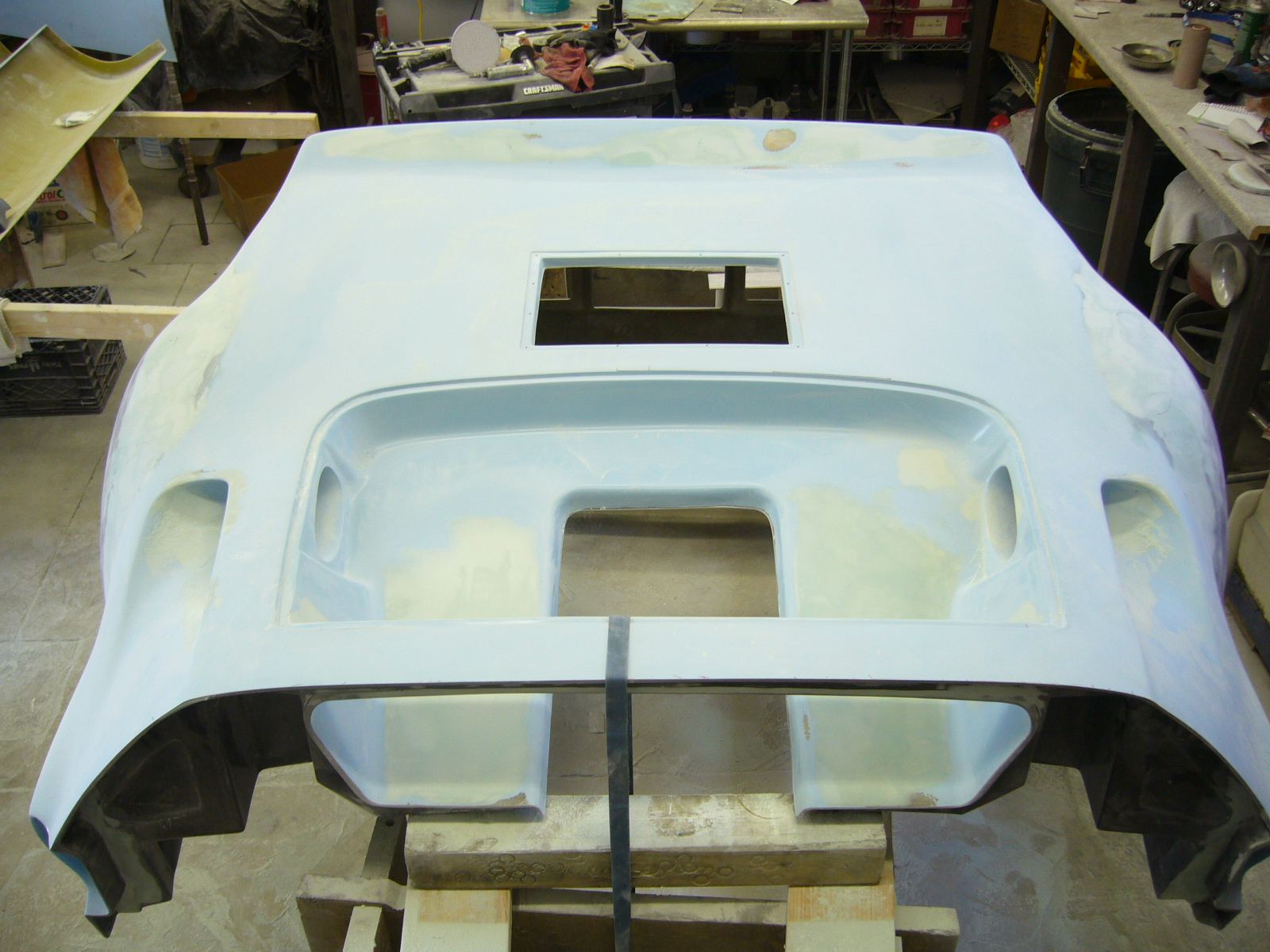 Now the rockers needed to be flared to match the rear wheel arches. To do this, I created the desired shapes
using air drying modeling clay, glued plastic bag material to the clay to act as a release agent, and wrapped
the molds in mat fiber glass.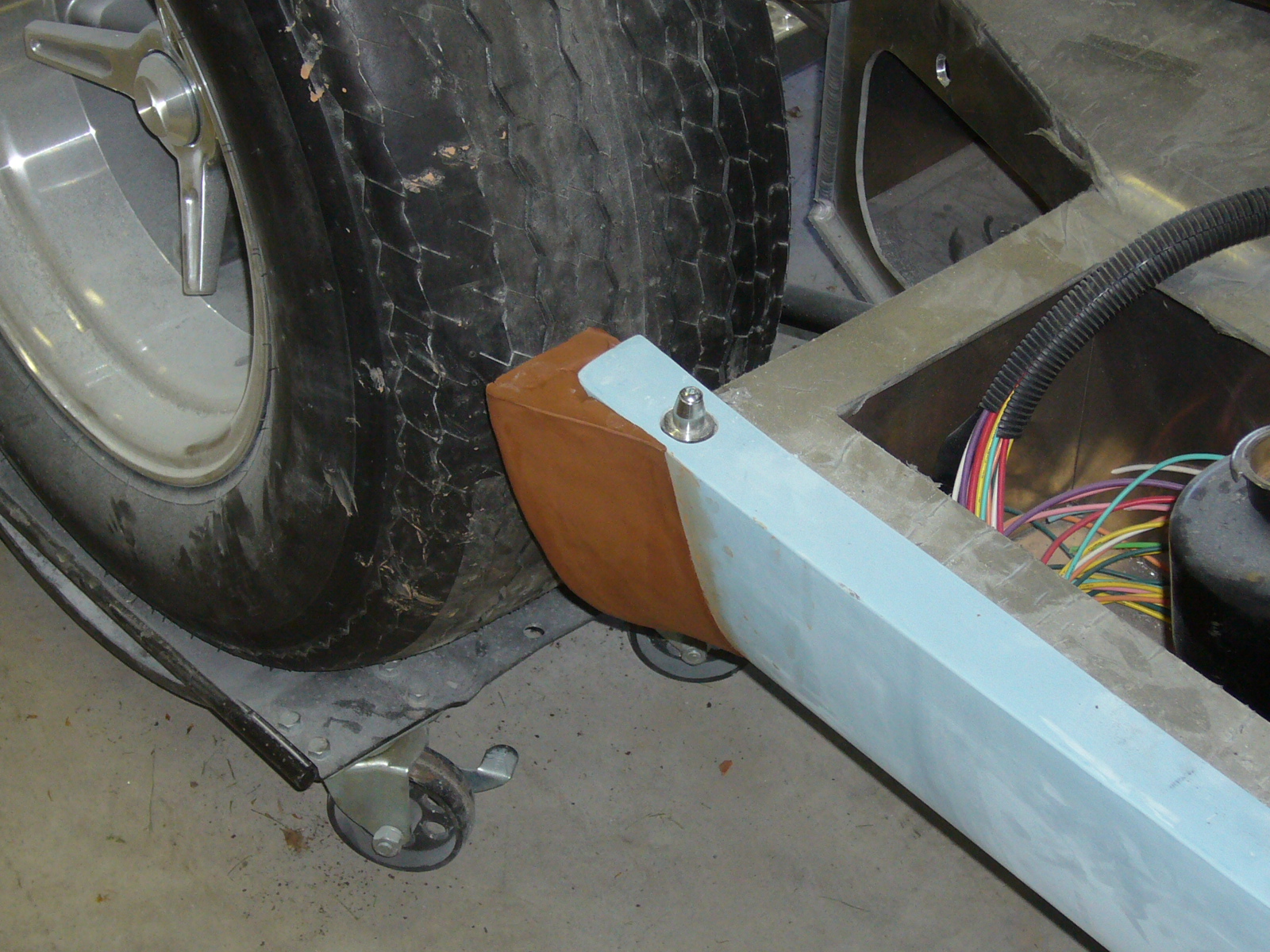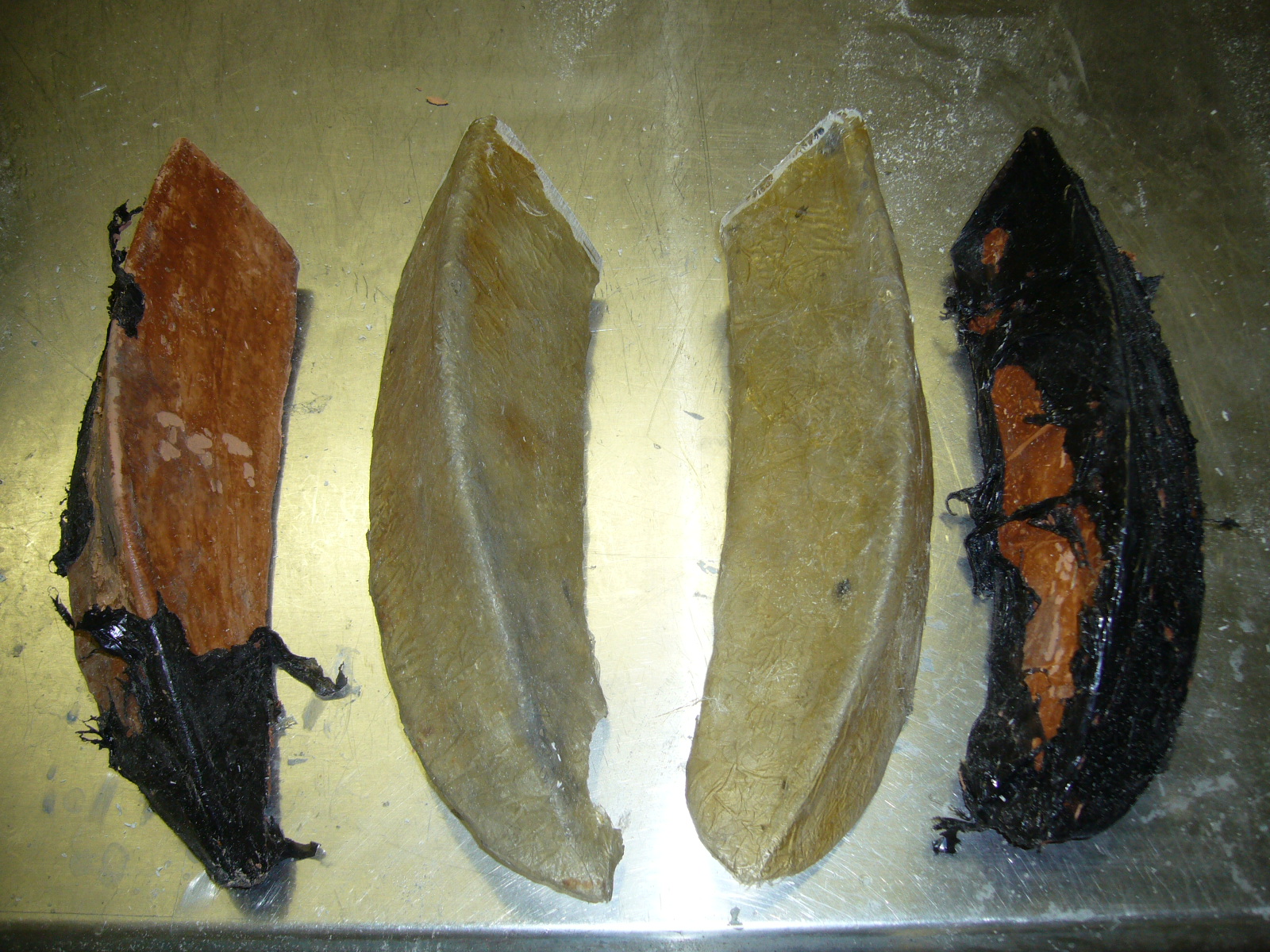 Initial fitment Installation: bonded and filler started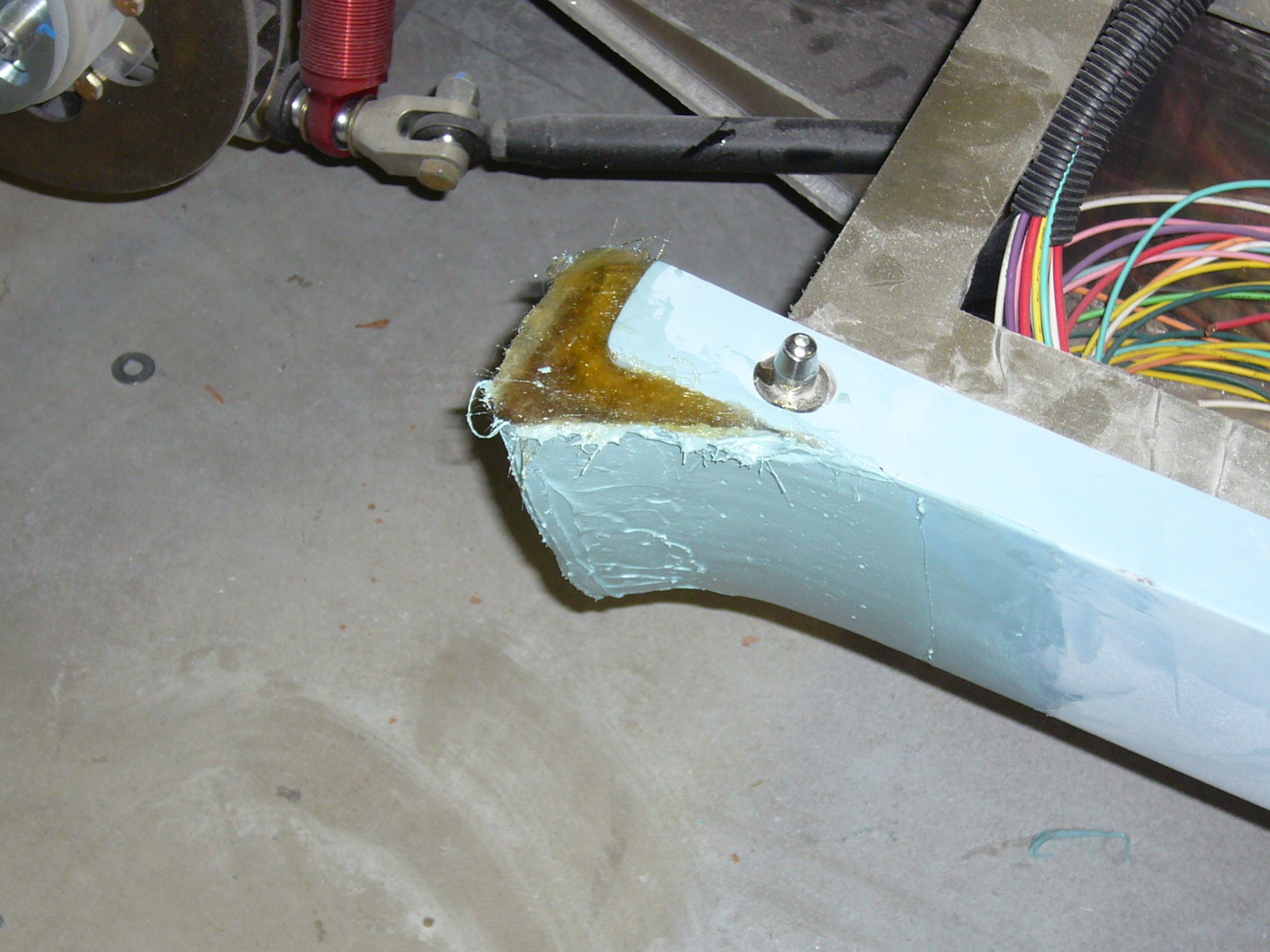 Finished product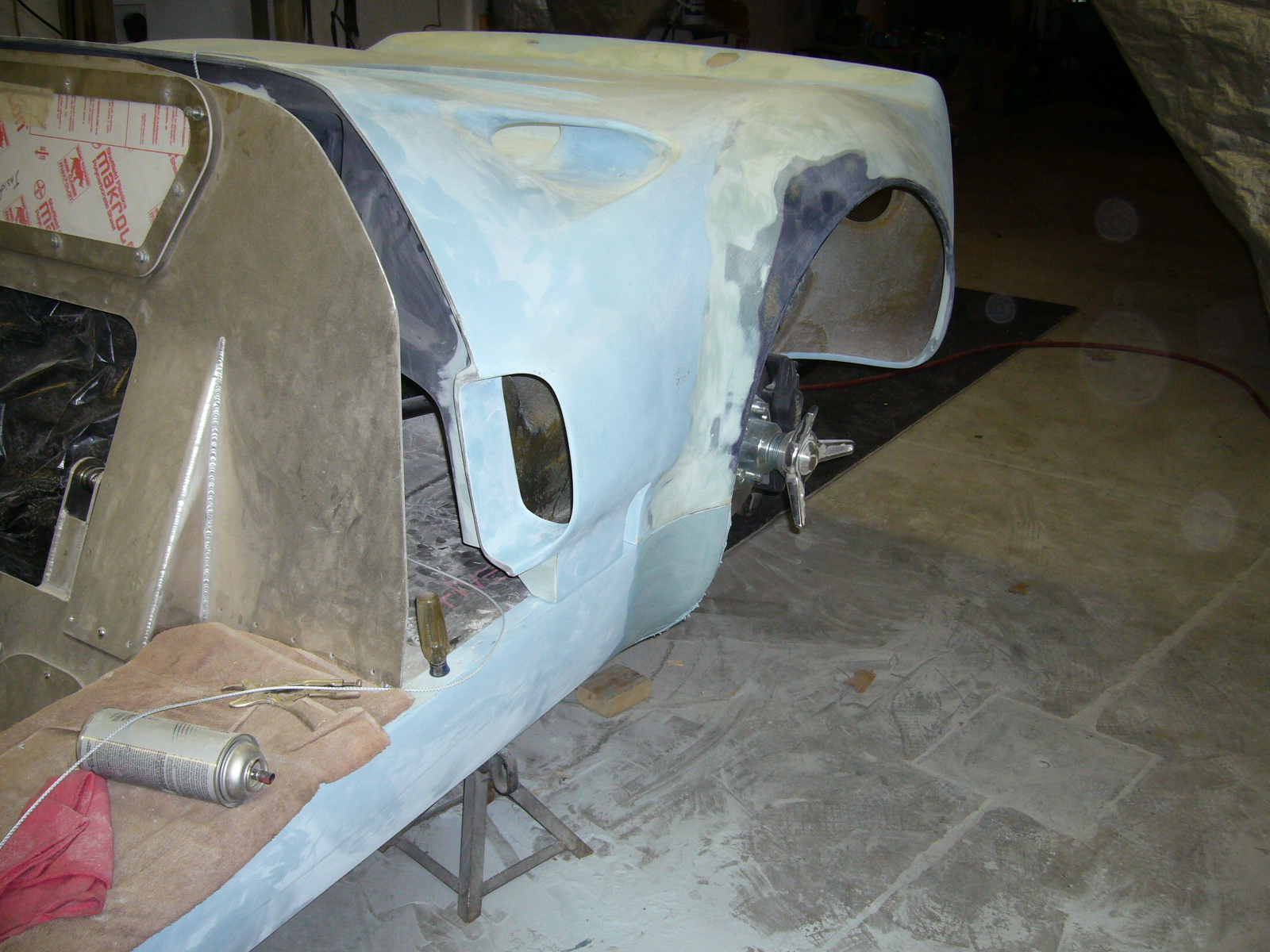 All painted and ready for assembly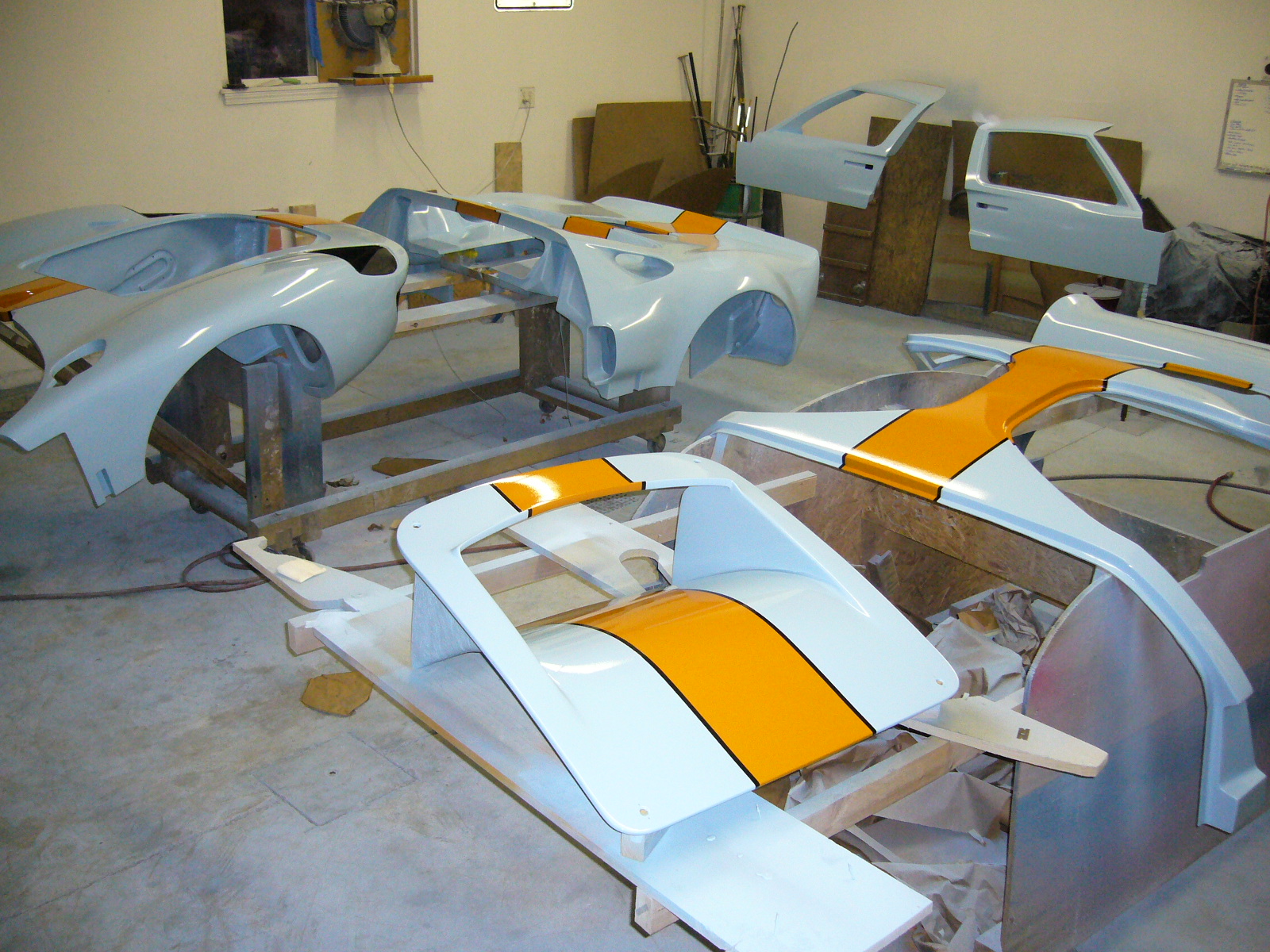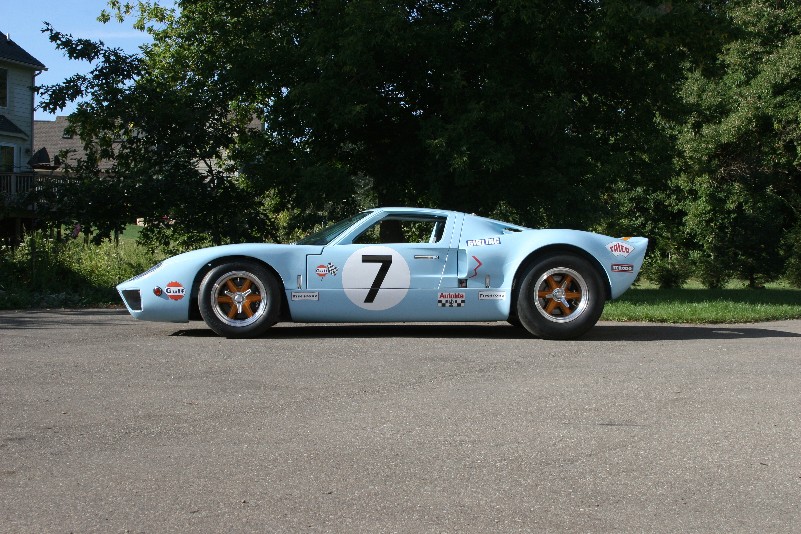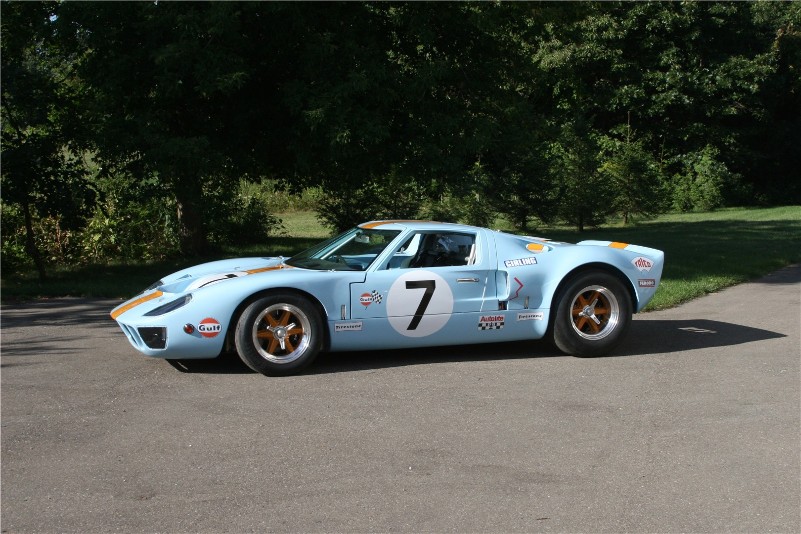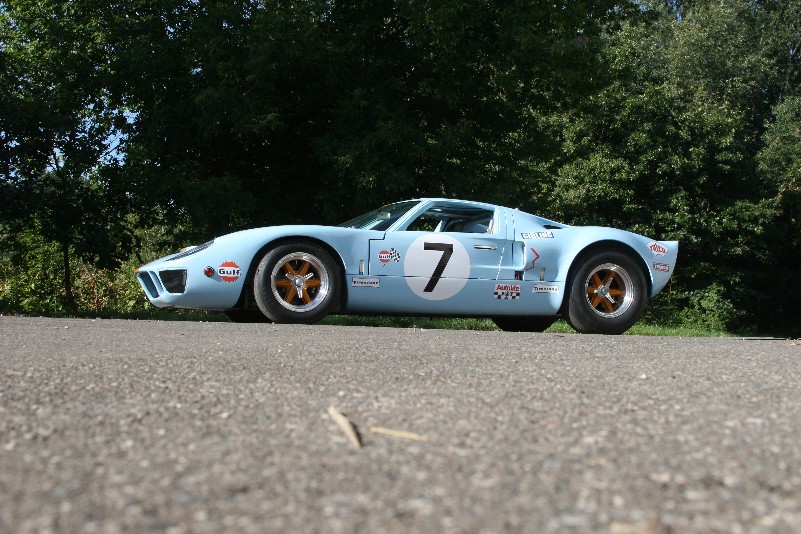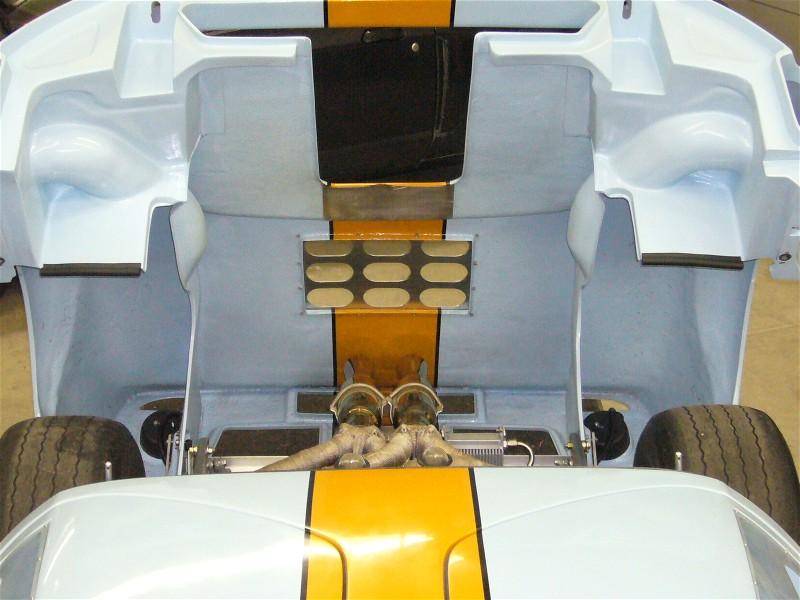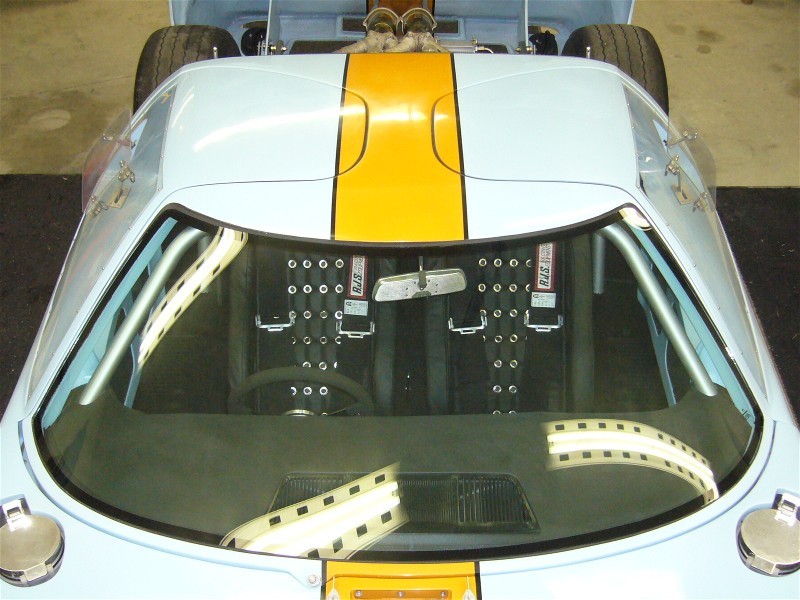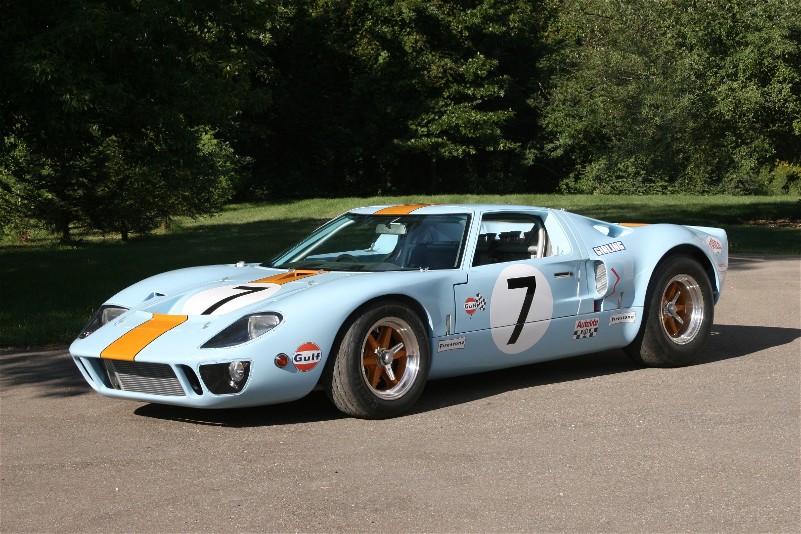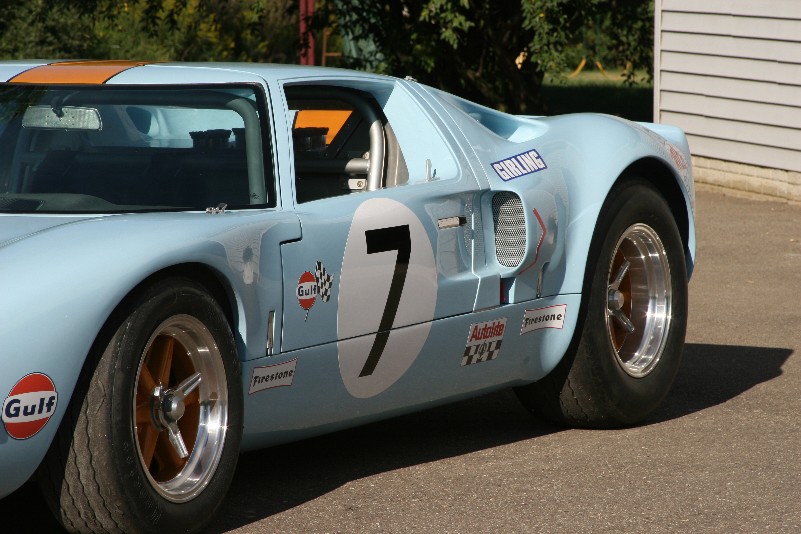 Original style Dzus body fasteners and lights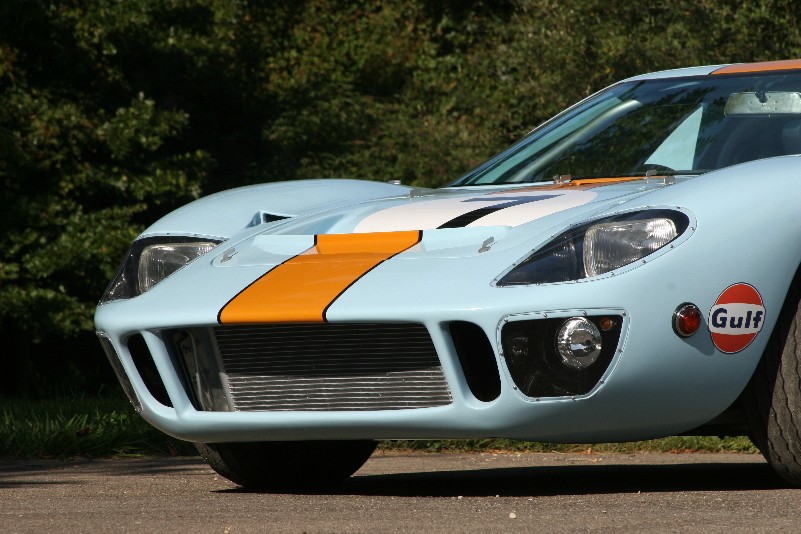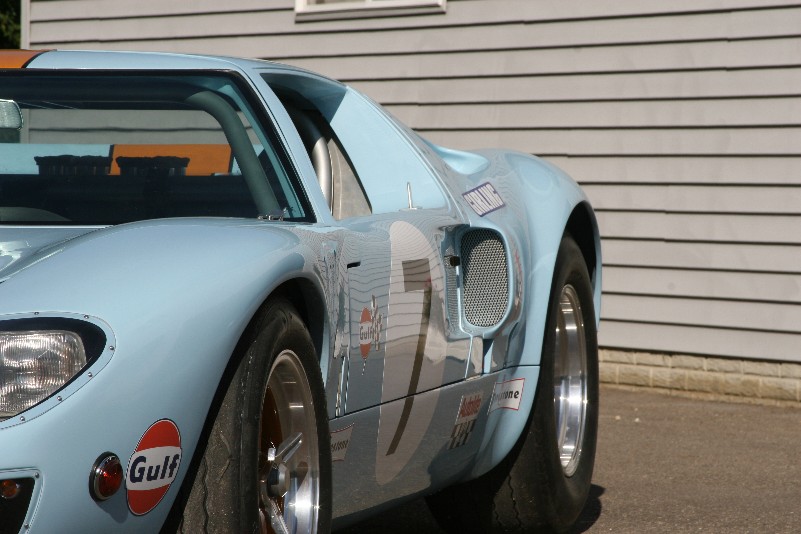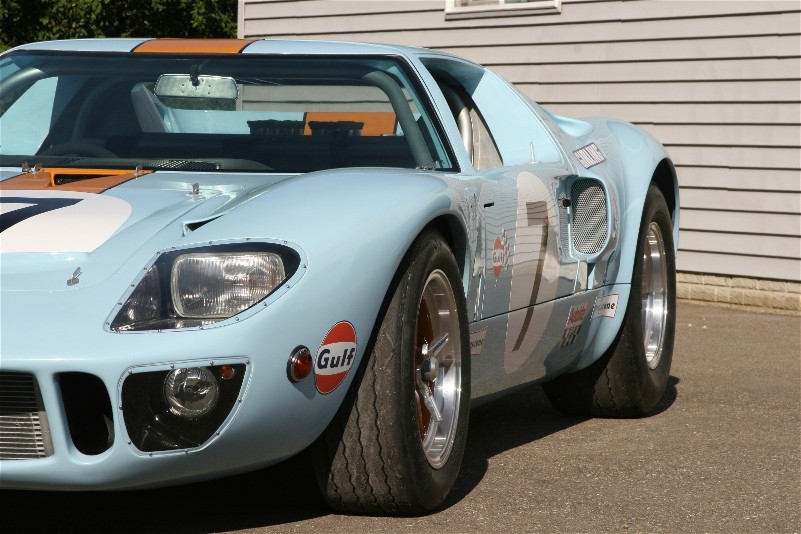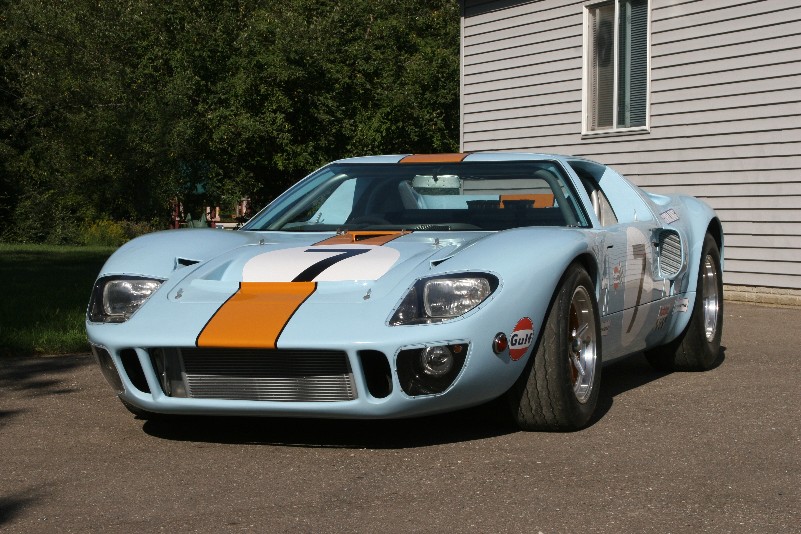 Fabricated a radiator protector screen (not shown above)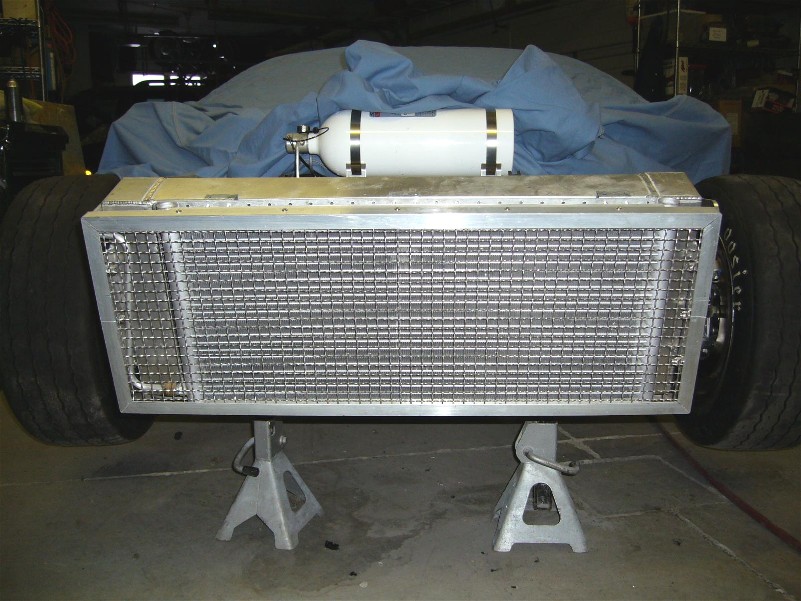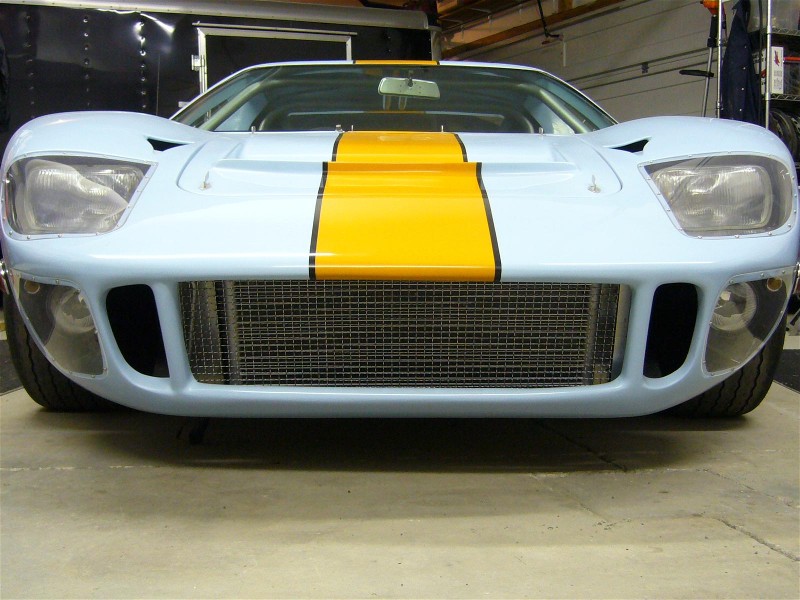 Labor intensive utilization of hard lines throughout the build.
No cost or effort spared in the process of the build.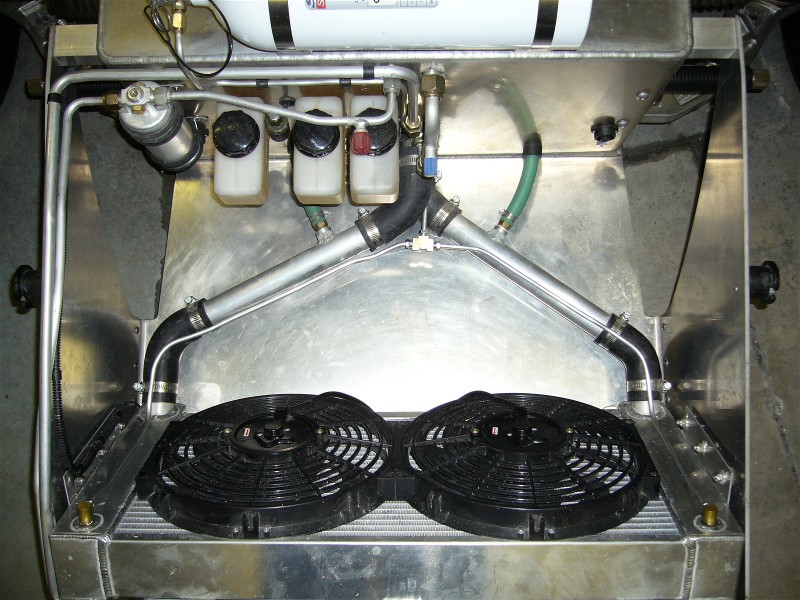 Car weighs in at 2450 lbs. Well balanced at 44% front / 56% rear.
( 8.11 lbs per H.P. )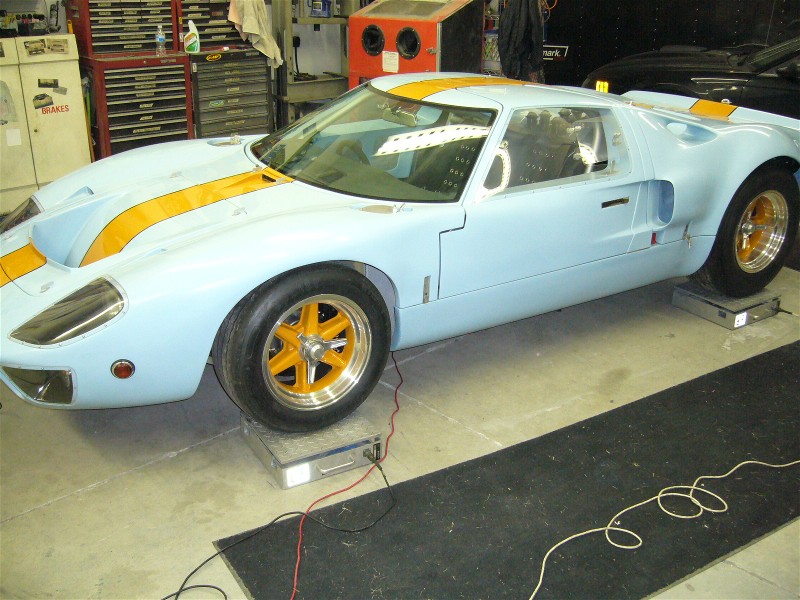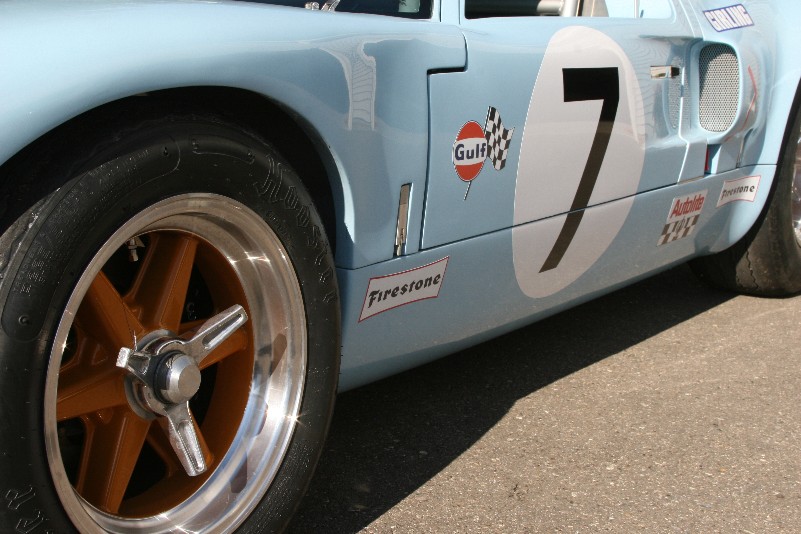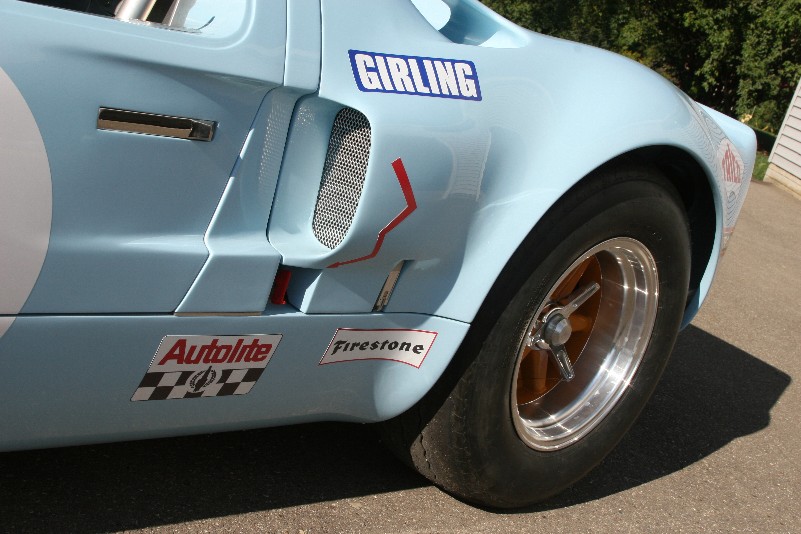 Stripes were painstakingly painted next to primary body color.
This provided a smooth as glass finish, with no rise resulting from material build.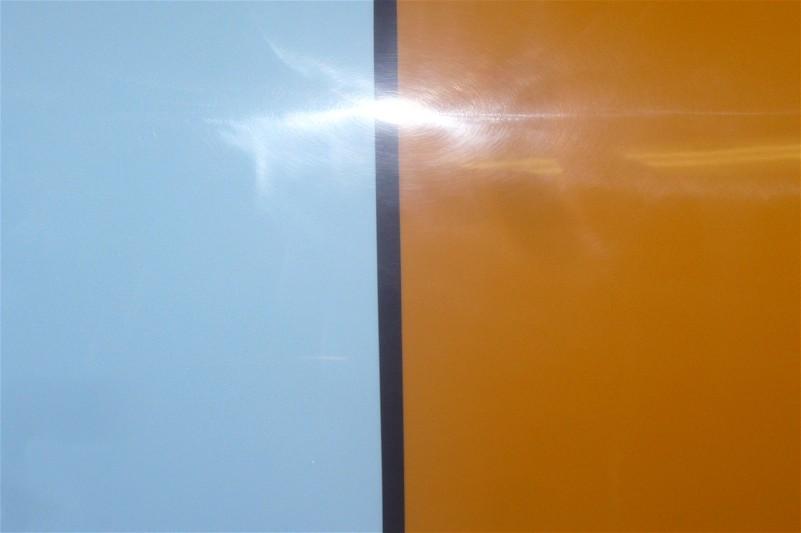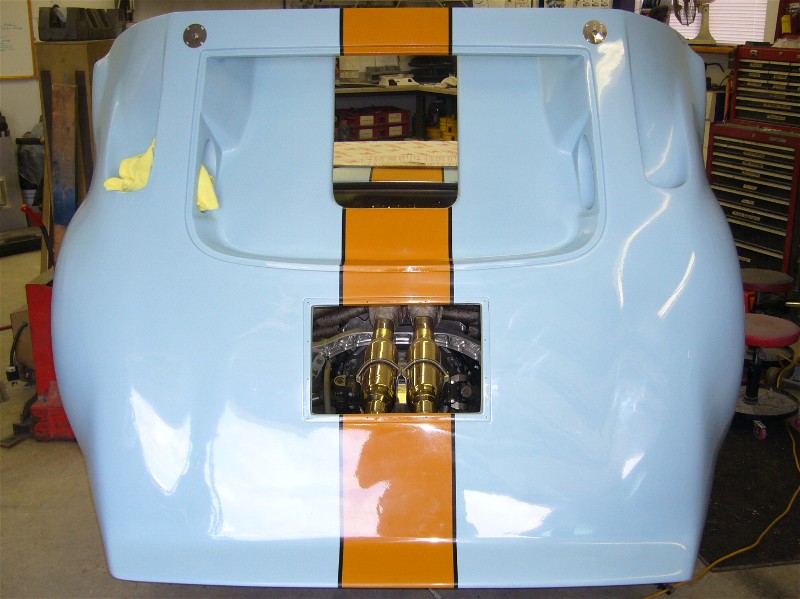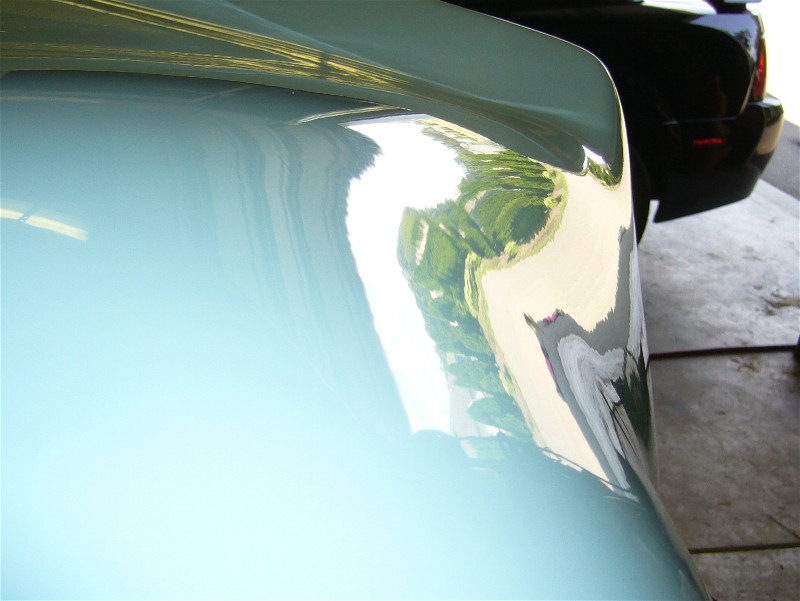 Engine Bay:

QA1 Shocks, Front and Rear Sway Bars, 6061 Aluminum Uprights and Control Arms,
Engine Oil Cooler, Universal Joint Style Axle Shafts, Stainless Steel Exhaust,
Most Steel Components Electroplated Silver (incl. roll cage & suspension components)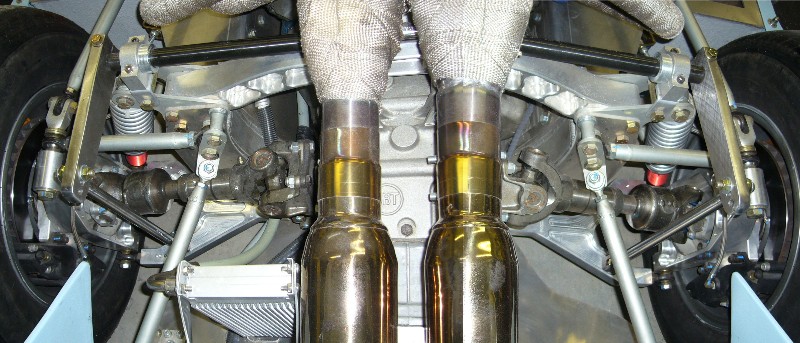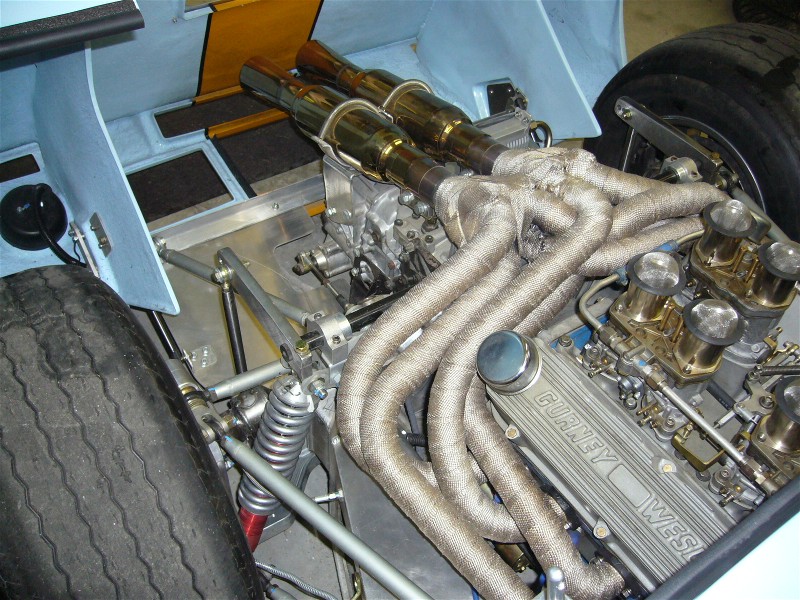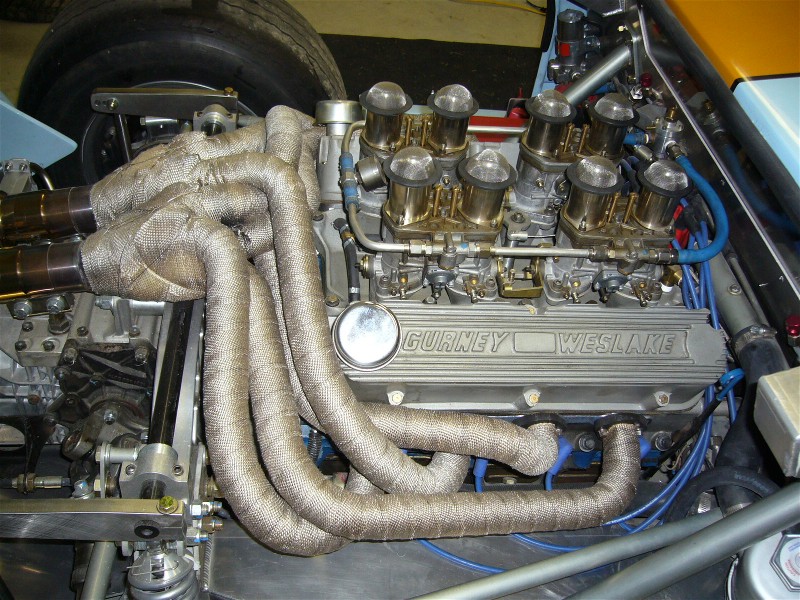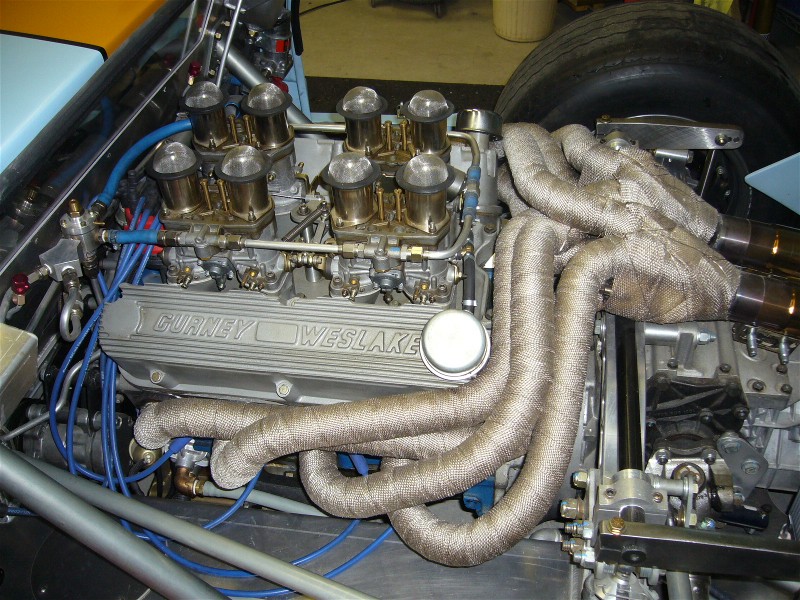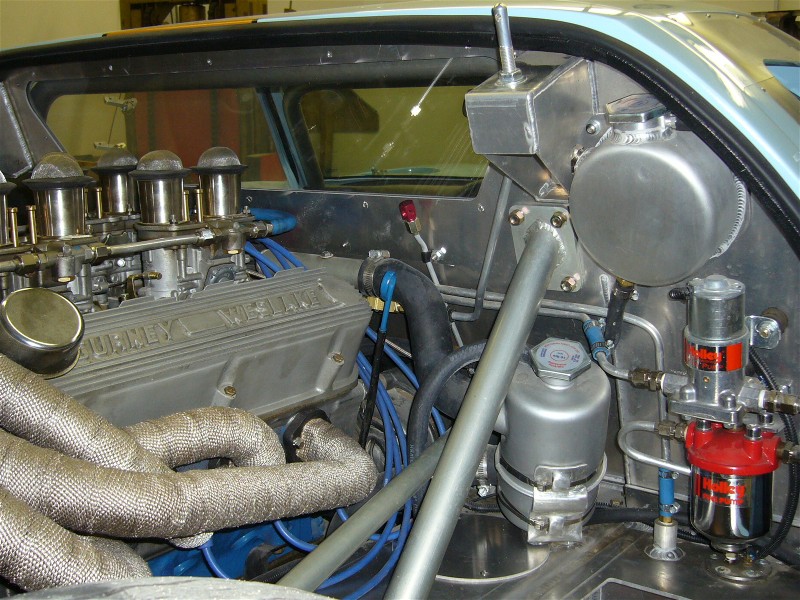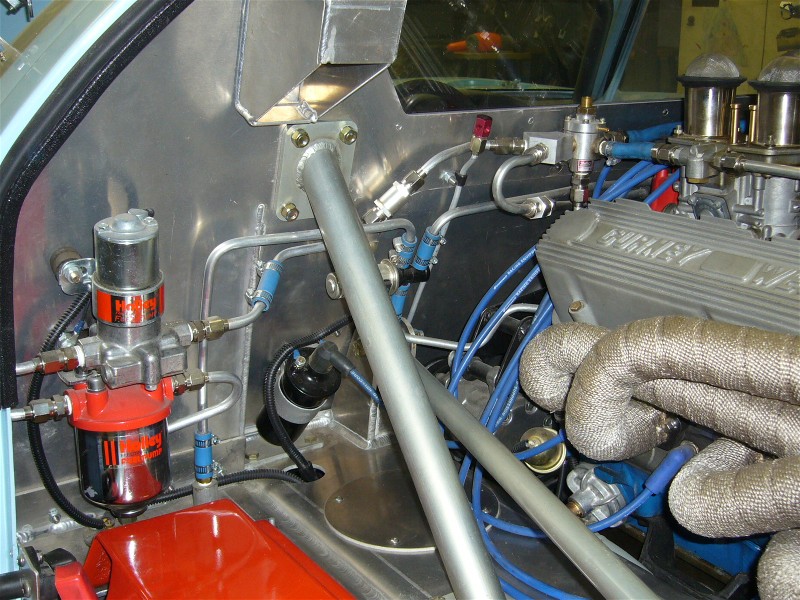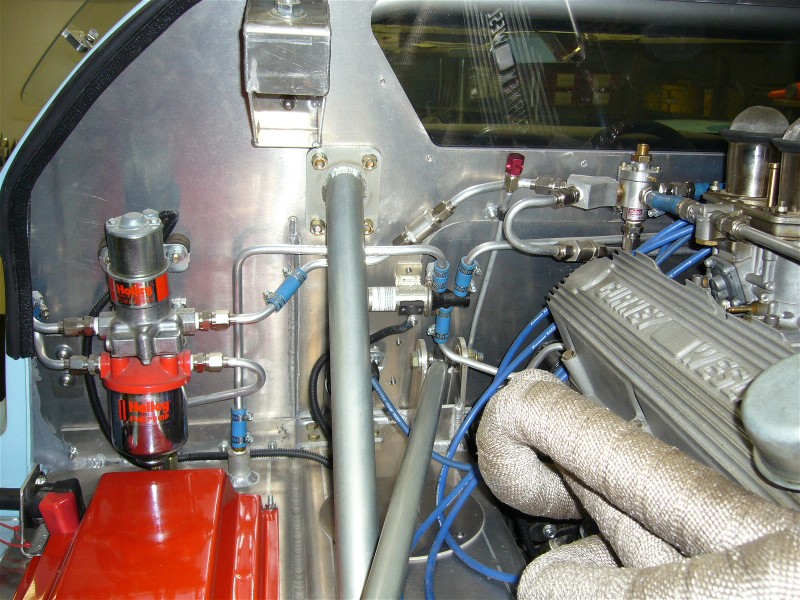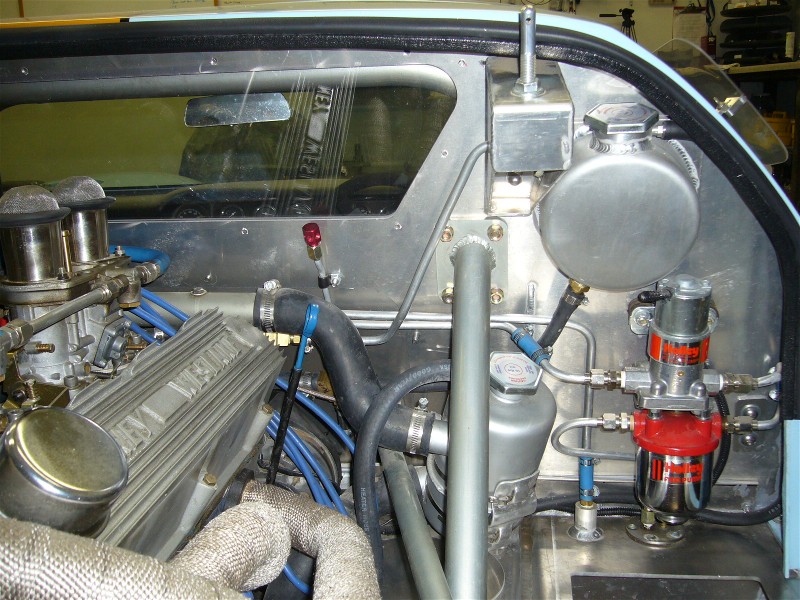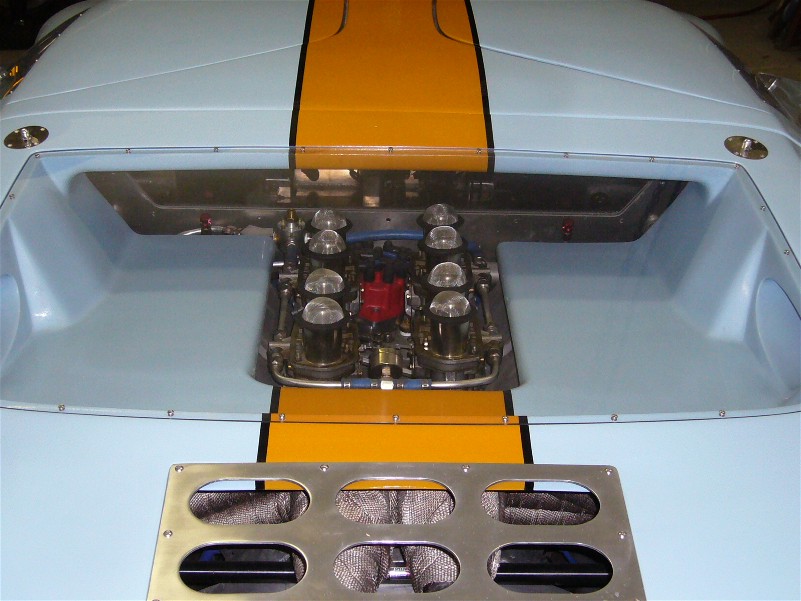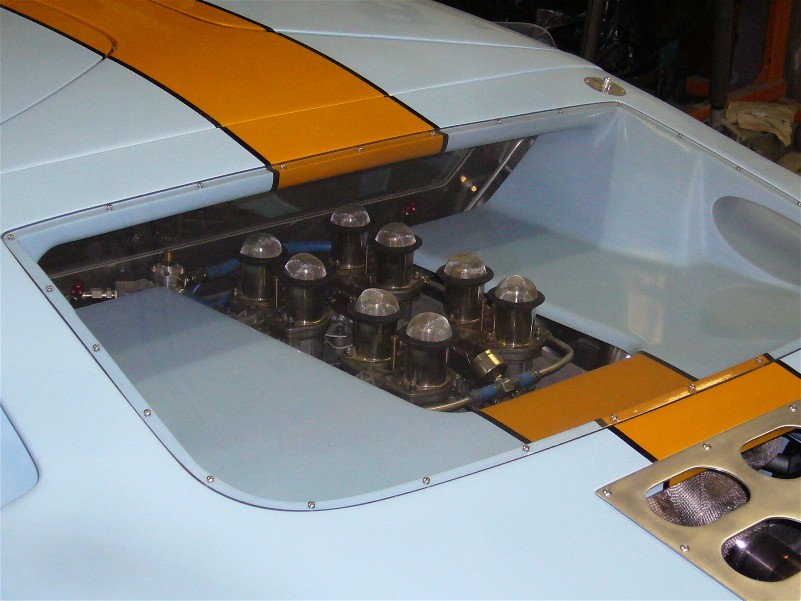 Click image below for a walk around.....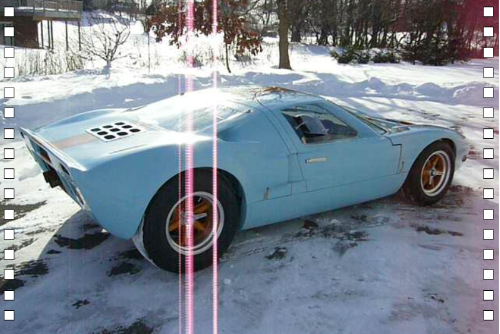 ZF Transmission:
Pantera gear box stripped, drilled for new oiling passages, ring gear flipped
With the ring gear flipped, the case was installed update down.
(or ....one could say back to original configuration ...i.e. GT40 spec)
Arrows indicate new oil passages which were drilled.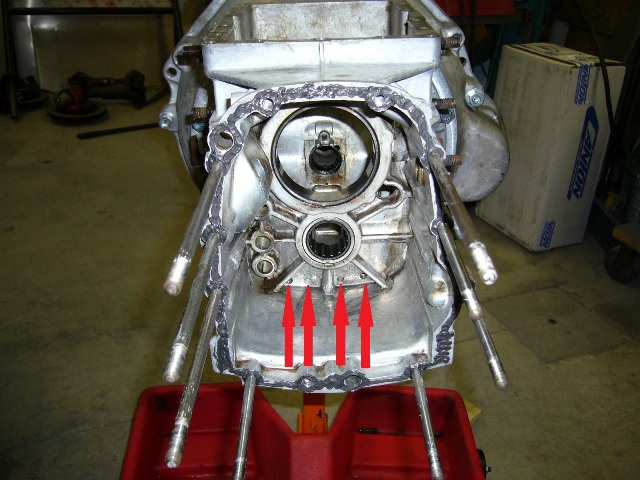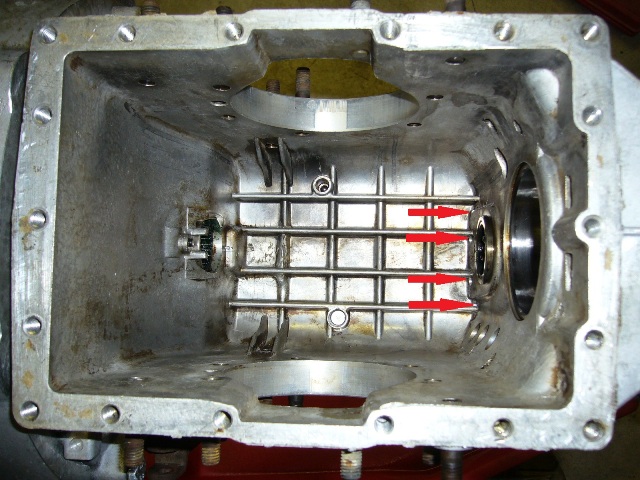 Safety wired crown wheel (ring gear)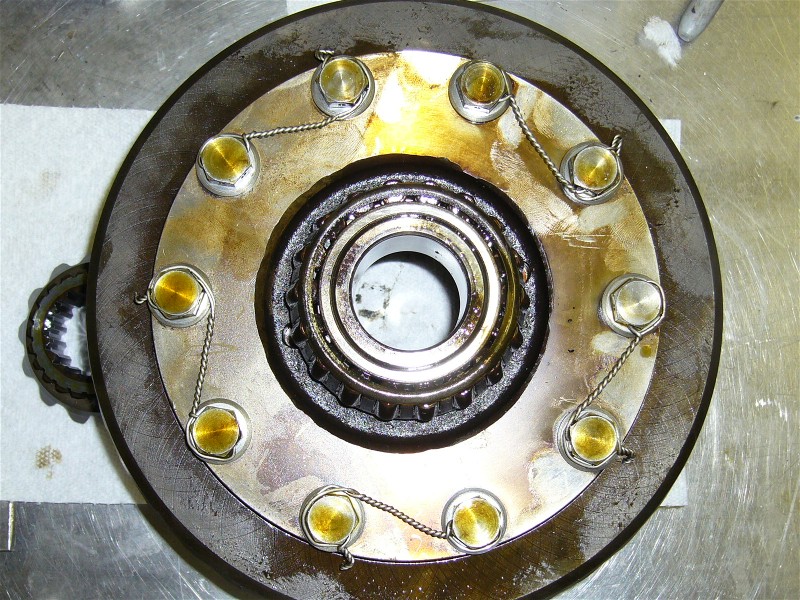 Box reassembly....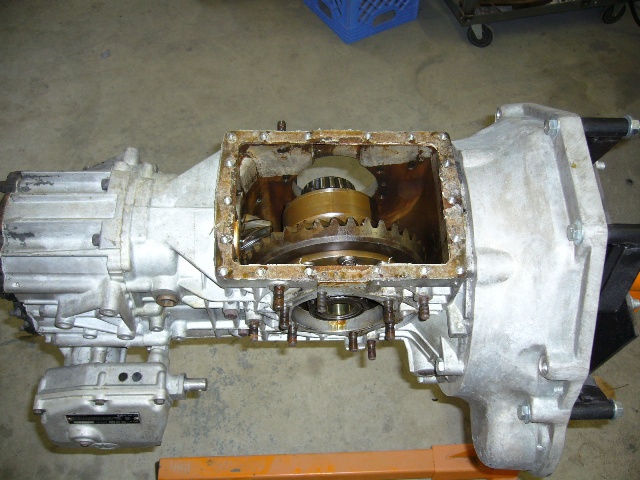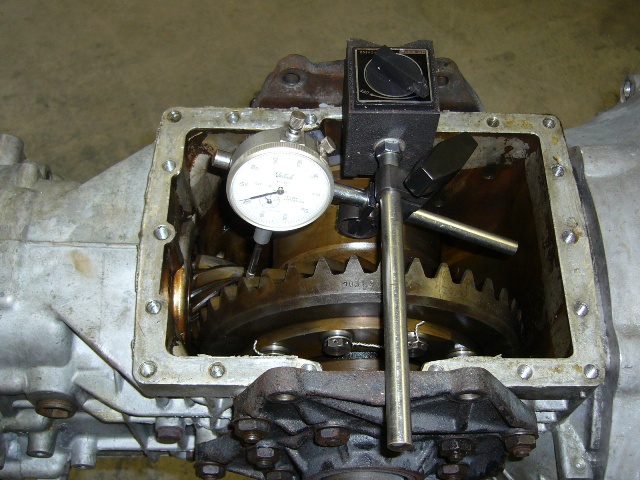 Hartwell style latches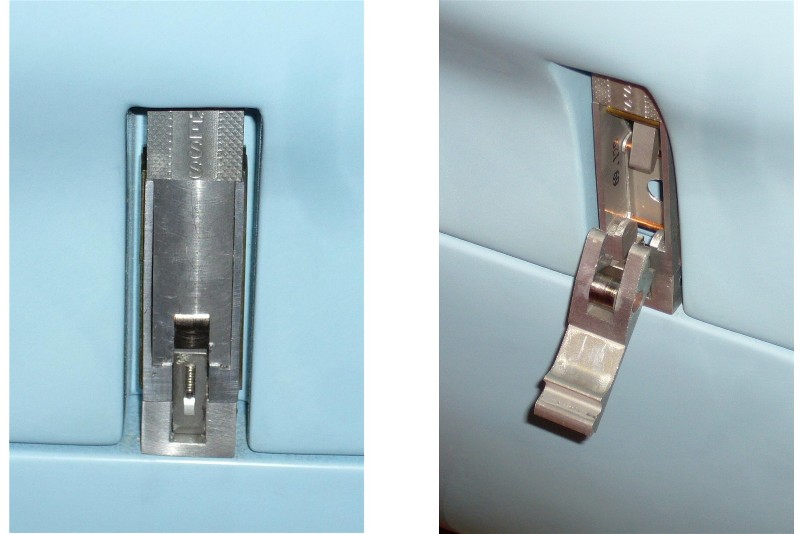 Original style side windows and hardware.
Wing windows, full side windows and door assemblies are all easily removable.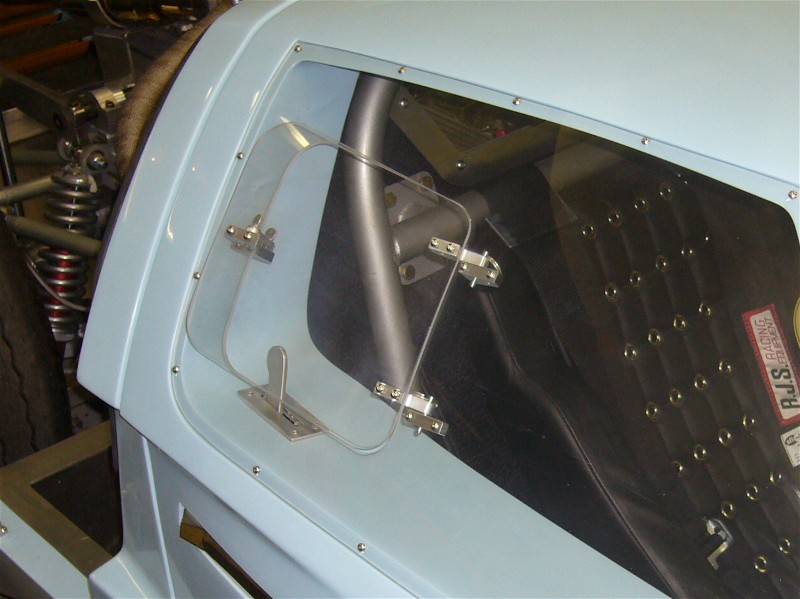 Click on the below image to see a video of the door mechanisms in operation.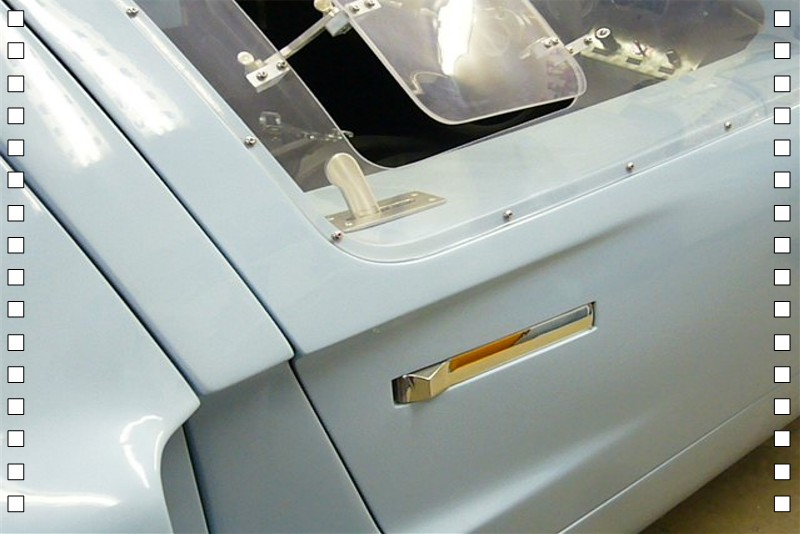 A few of my previous builds:
(click to see details)